The Hand Therapy service is based at Rowan House (Epsom General Hospital).
See map for location details.
For enquiries, appointments and referrals, please contact the Therapy administration office:
T: 01372 735 387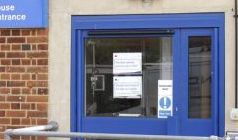 Accessing this service
Referrals to the service can be made through Epsom/St Helier consultants, A&E and local GPs.
All new appointments are made via the Therapy administration office on:
T: 01372 735 387
How to get there
Epsom Hospital is a 20 minute walk or a short taxi or bus ride from Epsom station. 
Who will I see?
The team consists of Occupational Therapy and Physiotherapy professionals.