Access the service
Self referral is available if someone has already been provided with a wheelchair. Referrals are also accepted from GPs, consultants, social care teams and other healthcare professions. To make a referral, or for any queries about referrals, please contact the Referral Management Centre (RMC), which is open Monday to Friday 8.00am - 6.00pm (excluding bank holidays):
T: 020 8394 3868
F: 020 8394 3863
The Wheelchair Service is based at Leatherhead Community Hospital.
See map for location details.
​To contact the team for enquiries, appointments or advice, please call:
T: 01372 384 383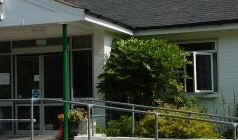 How to get there
Free car parking is available on-site for patients and visitors. 
Alternatively, the Hospital is a 20 minute walk from Leatherhead station.
Who will I see?
The Wheelchair Service is a multidisciplinary team of therapists including Occupational Therapists, a Rehabilitation Technician and a Rehabilitation Engineer.