Immunisations (secondary school age)
Our 0-19 team runs the National Immunisation Programme for secondary schools. This includes:
The HPV (Human Papilloma Virus) vaccine for 12-13 year old girls, Year 8
The DTP (diphtheria, tetanus and polio) vaccine for 14-15 year old girls and boys, Years 9 and 10
Meningitis (Men ACWY) vaccine for 14-15 year old girls and boys in Years 9 and 10, and 15-16 year olds in Year 11.
90 %
We promote the uptake of the HPV vaccine in young girls, and have achieved an uptake rate of 90%.
Consent forms and information leaflets are sent out via your child's school at the appropriate time. Young people in secondary school who are assessed as competent by nurses can legally self consent for any immunisation.
The nurse will check the consent form and ensure your child is well and able to have their immunisations that day. If your child is unwell or absent, a letter will be sent home regarding a new appointment.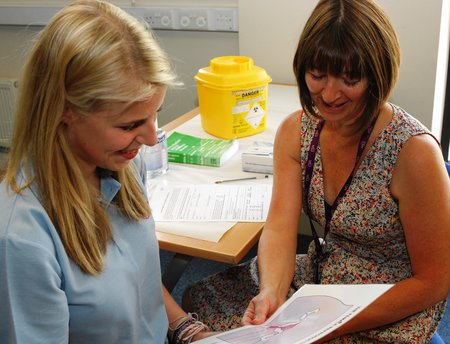 If you are concerned about your child's hearing, please contact your health visitor/school nurse or GP.