CSH Surrey is proud to provide placements for undergraduate nurses at the University of Surrey. We work hard to ensure our placement experiences reflect the NMC Standards of Proficiency and the University of Surrey's current curriculum.
We have qualified and highly experienced mentors who support our students while on their placements with CSH Surrey. In September 2015, one of our mentors was named Runner Up in the University's annual Ted Adams Award for Inspirational Mentors.
Placement opportunities
Community hospitals: we run three community hospitals that provide 24 hour nursing care for people needing specialist rehabilitation nursing and therapy input. The aim is to help patients return to living as independently as possible. You'll work within a multi-disciplinary nurse-led team that also includes physios, occupational therapists and social care. 
Multi-disciplinary community teams: we have three locality community teams whose patients are primarily the frail elderly who the team supports to stay safe and independent at home. You will work as part of the community hub team (nurses, therapists, GPs, social care) and with external partners to support proactive case management and client self-care of long-term conditions to help prevent unnecessary hospital admissions.
Specialist nursing teams: our specialist nurses provide expert knowledge and practice in areas such as continence, Multiple Sclerosis, Parkinson's Disease, stroke, respiratory disease, heart failure and tissue viability. You will have the opportunity to spend time in these areas as part of your placement. Elective placement opportunities are also available within these teams. 
Support while on placement
Day to day you will be supported by your mentor.
"My mentors were brilliant – so supportive and keen to help me learn. I knew community nursing was for me because the nurses I met on placement at CSH Surrey were the type of nurses I had always aspired to be like." Coral Dowdeswell, Staff Nurse, graduated July 2015
Our Clinical Practice Educator and your Locality 1 Practice Liaison Teacher will provide additional support. They can be contacted using the following:
You can also contact your personal tutor at the University.
For reporting of student sickness/absence while on your placement, telephone the University on 01483 684 520 (24 hour answerphone). You also need to let your mentor/placement area know.
What our students say about placements at CSH Surrey
"The nurses are all very compassionate and attentive to patients, it is real holistic care. The nurses were very caring and hard working. Every member I worked with was compassionate and willing to give each patient as much advice and time as they needed. It was my favourite placement so far –  I loved every minute of it, it gave me a huge variety of experiences. I'm hoping to go back another time."
"My mentors designed my placement around what I wanted to learn/practice. All the nurses were very caring and knew all patients by name and discussed best methods of care when needed. A lovely placement with friendly staff who were all welcoming."
"All the staff were fantastic and supportive, providing an excellent learning environment with lots of opportunities. All the mentors invited me to spend time with them meeting my learning outcomes. The nursing team met all the needs of the patients, showing care, compassion, understanding and were extremely supportive, going out of their way to provide the highest standard of care they could give. They go the ends of the earth for their patients."
"The district nurses were amazing and you could tell they had the patient's interests at heart. They went out of their way to ensure patients and their families understood their care and involved them in all stages of the decision making process. Working in the community allowed me to experience a different kind of nursing, it was a good learning experience and increased my confidence in patient care.The District Nurses were a lovely team who cared well for their patients. Staff were kind, caring and considerate – they go the extra mile to enhance patients' experience in their homes."
My student story 
By Coral Dowdeswell, Staff Nurse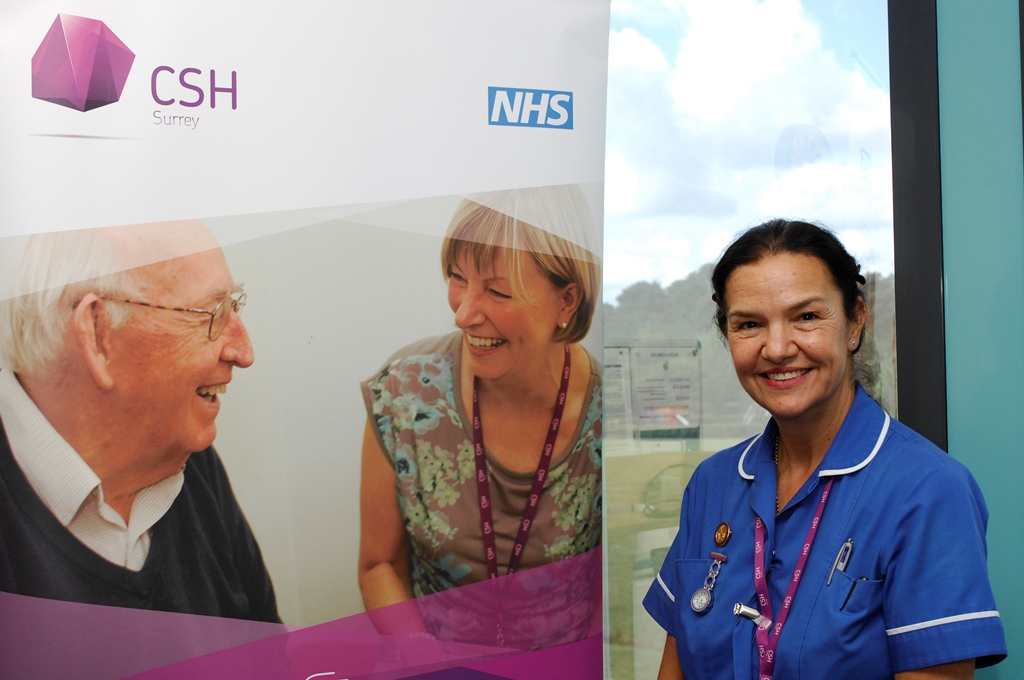 Coral, 54, joined CSH Surrey in March 2015 in her first role as a Staff Nurse after qualifying at the University of Surrey. She's part of the multi-disciplinary Community Hub team for Elmbridge.
Following a dream
Coral had always wanted to be a nurse, but ended up in retail, working for John Lewis for 12 years. Although she liked their partnership model and supported their values, she still longed to be a nurse. Following a divorce, Coral finally decided to follow her dream. She worked in care for two years before realising that she could 'do what they're doing, but better!'. She applied to the University of Surrey and was accepted onto its two year diploma. She sold her house and moved into rented accommodation to fund her studies.
Developing a love for community nursing
Coral fell in love with community nursing through two placements at CSH Surrey, one in a community hospital and the other with a community nursing team. "I didn't realise at first that it was the same organisation until I got the same nice feeling, which definitely isn't the case on all placements. At CSH Surrey the nurses were the type of nurses I aspired to be like – skilled, caring and compassionate, and always putting the patients first."
Coral has fond memories of her mentors, one of whom was named Runner up in the University of Surrey's annual Ted Adam Inspiring Mentor Awards in September 2015. "My mentors at CSH Surrey were brilliant. They gave me a lot of 1:1 time and were always happy to answer my questions."
At the end of her diploma Coral's grades were good enough to allow her to complete the full three year degree.
She chose to do her final, supervised placement in the community with CSH Surrey and this cemented her desire to work for them. "CSH Surrey is like John Lewis in that it's employee-owned and this ethos makes a real difference to the culture and the level of innovation. My team is so supportive and caring, and everyone looks after each other so there's always a nice atmosphere. The manager is brilliant, such a lovely person and very approachable. The patients always come first and the nurses all have the same vision of caring and nurturing their patients."
Coral applied for a Band 5 Staff Nurse role in October 2014 and was offered the job, subject to receiving her PIN. "I started on 2 March 2015 and I love it! As nurses, the most important person in our lives in that specific moment is our patient, and nursing in the community really allows you to do this."
Coral graduated on 16 July 2015.
Community nursing as a first job
Coral urges more student nurses to go into community nursing and not to be put off by those who say they should get acute experience first.
"The right organisation won't leave you unsupported. I wasn't frightened as a newly qualified nurse because my caseload was carefully chosen and my team is so supportive and friendly. I was given a very supportive mentor and patients who were well known to the team. CSH Surrey was careful not to put me in a daunting situation as a new nurse and even now, if I am in any doubt about anything, I know I can always call a colleague using my work mobile for a second opinion."
Freedom and autonomy, supported by technology
Coral enjoys having her own caseload and being able to organise her time and daily routine herself.
"I normally see my regular patients with diabetes on my way into the office where I pick up paperwork for my other visits. I see up to 15 patients before going back to the office for our daily team meeting where we get any news and also update each other on our patients. If one of us has a particularly busy caseload that day we are able to share the work and help each other out. I leave the office around 4.45pm after updating our electronic patient record system, and then visit my diabetic patients on my way home."
With her new laptop, Coral is able to juggle her work to fit in with home as well. "My laptop is portable so if I want to connect at home to refresh myself about a particularly case, I can, but it's my choice. I like to be on top of my work and plan ahead, which I can do with the technology, it's brilliant. I can stay up to date and it's more efficient and less time consuming."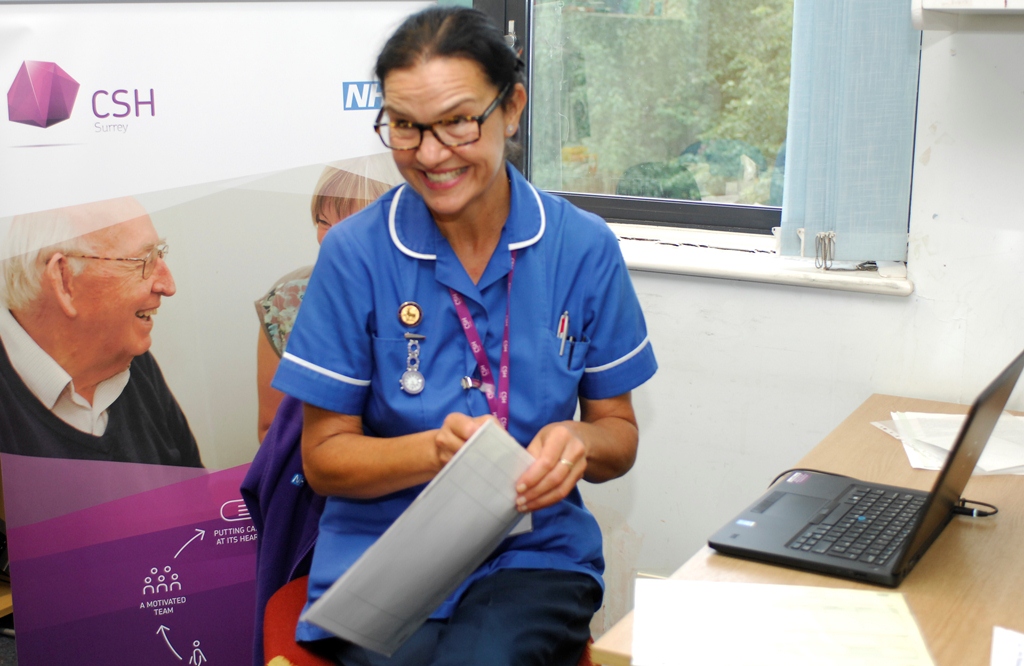 Looking ahead
Coral hopes to qualify as a District Nurse in a few years' time and feels she is being encouraged to go further. "There are a lot of opportunities to develop your career within CSH Surrey and other training opportunities, such as IT and personal development courses, as well as leadership and management training."
Coral firmly believes that age shouldn't stop anyone following their dream. "Although I'm newly qualified, I also have a lot of life experience that counts for a lot in nursing. In my mind, age is just a number."
"Community nursing is so varied. I see many different patients in many different places, and everyone has different needs. I love being able to build relationships with patients and their families rather than the more 'conveyor belt' nursing typical in an acute hospital. To be a community nurse with a degree at 54 years old, and to be able to be the caring and compassionate nurse I always wanted to me, makes me very proud and happy. I feel I am finally in the right place at last!"