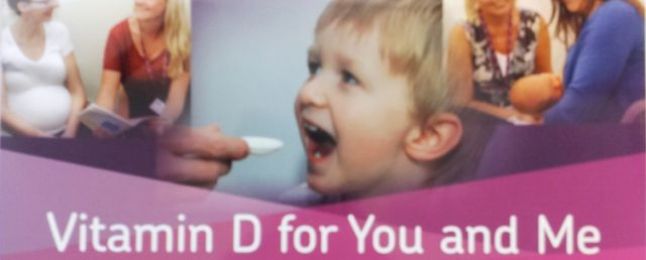 July 2014. From Monday 21st July, expectant and breastfeeding mums, babies and the under 5s in mid Surrey will be reminded to take Vitamin D supplements in a public health awareness campaign launched by CSH Surrey.
This comes after growing evidence of an increase in Vitamin D deficiency in the UK population, with the rate of rickets (a condition affecting bone development in children) rising fourfold in the past 15 years (Royal College of Paediatrics and Child Health, 2012). In addition, the latest National Diet and Nutrition Survey (2011/2012) reveals that 1½ – 3 years olds are getting just 27% of their daily recommended intake of Vitamin D from food.
Vitamin D is essential for bone health, particularly during periods of rapid growth, so the Department of Health is recommending that expectant mums, those breastfeeding and children under 5 years of age take daily supplements.
The campaign is being run by CSH Surrey's '0-19 years service', which provides NHS nursing and therapy services for children up to 19 years old and their families in the mid Surrey area. Its teams will be wearing badges, displaying posters in child health clinics and adding stickers into families' child health 'red books' to remind parents and carers about the importance of taking supplements.
Local Children's Centres, midwives and GPs are all supporting the campaign and helping to get the message out through badges and posters.
Diane Scheppel, Paediatric Dietitian at CSH Surrey says: "There's lots of evidence now that babies and children in particular cannot get enough Vitamin D through food alone. We're therefore launching this campaign to raise more awareness among these particular groups of the importance of taking Vitamin D supplements for healthy bones."
Health Visitor Pauline Bigwood adds: "Most of us have probably grown up knowing we get most of our Vitamin D from being in the sun. But parents are, quite rightly, concerned about the risks of sunburn so are using sunscreen, which prevents the body making Vitamin D. So we're giving a simple message – give your child a daily supplement and then you don't have to worry about your family getting too much or not enough sun to meet their daily Vitamin D needs."
Local mum, Rebecca, says she's pleased to be better informed. "My three year old son Harry has a good diet and is also out in the fresh air every day so I wrongly assumed he would be getting enough Vitamin D. I now give him a supplement every day because I want to be sure he's getting enough Vitamin D to grow strong and healthy bones."
The daily Vitamin D supplement recommendations are:
All pregnant and breastfeeding women: 10 micrograms daily

Breastfed babies from 1 month old if the mother did not take Vitamin D in pregnancy
All babies from six months old if having less than 500ml formula a day, and all children up to five years old.
Vitamin D supplements are available to buy from most supermarkets and pharmacies. Some families will be eligible for Healthy Start vouchers, which they can use to exchange for vitamin supplements at CSH Surrey's clinics.
For more information, visit www.healthystart.nhs.uk and www.nhs.uk/conditions/Rickets/Pages/Introduction.aspx