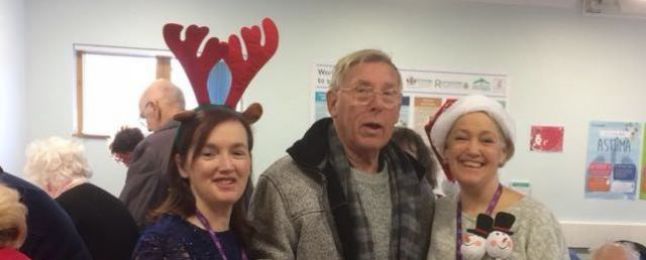 Friday 15 December 2017. More than 60 elderly patients of the Bedser Hub in Woking were treated to a Christmas tea party organised by the Hub team on Friday 15 December.
The party was the idea of the Hub team, with Hub Matron Anne Moxon contacting local supermarkets for contributions. Waitrose in Goldsworth Park kindly donated food and drinks to the value of £150, while Morrisons donated £20. The Friends of Woking Hospital also supported the event, with a donation of £133 and a further £266 donated to the two wards at Woking Hospital. Age UK Surrey provided presents that had been kindly donated by staff, supporters, students of Royal Holloway University and employees of BP International and Centrica.
The party was held at the Bedser Hub in Woking Community Hospital between 12 noon and 2pm. Friday 15 December is also the national Save the Children Christmas Jumper Day, so the patients and Hub team were invited to dress up in support of the fundraising initiative.
Joanne Row, Wellbeing Manager at Age UK Surrey, says: "Age UK Surrey is delighted to be able to donate presents to clients of the Bedser Hub as part of our Donate a Present campaign.  Presents have been donated by people who want to give some Christmas cheer to an older person. This year Age UK Surrey has received presents from staff, supporters, students of Royal Holloway University (through their Santa Workshop initiative) and employees of BP International and Centrica as part of their community engagement programmes. Presented in beautiful bags, the gifts included toiletries, chocolates, puzzle books, biscuits, socks and scarfs."
Anne Moxon, Hub Matron, says: "For many of the 900 or so elderly patients we see each month, coming to the Bedser Hub is as much a social occasion as a clinical appointment. Having an opportunity for human contact is so important when you live alone or find it hard to get out of the house because of medical conditions, so as well as giving them a thorough assessment of all their health and social care needs, it's really nice to be able to offer a social event as well. We would particularly like to thank the Friends of Woking Hospital and Waitrose for their very generous donations that are making the party possible."
Jon Allan, Chair of the Friends of Woking Hospital, says: "The Friends provided most of the funds to set up the Hub, and we are delighted to keep supporting it. We are extremely pleased that CSH Surrey is working hard with their partners to ensure that the Hub is used to the full extent for which it was planned."
Sarah Tomkins, Associate Director of Operations at CSH Surrey, a not-for-profit social enterprise that runs the local NHS services, says: "The success of the Bedser Hub is the collaboration of a fantastic team of people from across many disciplines who provide this innovative, integrated service. I would like to thank everyone on the team - GPs, Speciality Consultants, nurses, therapists, social workers, mental health professionals and voluntary sector colleagues – who work together to organise the healthcare and other support people need so they can continue to live independently. In 2018 CSH Surrey will be extending this successful model to two other localities in the north west Surrey area, meaning more people will benefit from integrated care and support."
Matt Bull, Team Manager at the Goldsworth Park Waitrose, adds: "We are delighted to support this local NHS service and provide the food and drink so the team can treat their patients to an end of year party. We hope everyone has a great time!"
Two patients who attended said: "This is to say a big thank you to all the staff at The Bedser Hub for inviting us to the lunch party. We had a great time and that is all due to the staff who took great care of us and all the other persons who attended. We thought the service and attention were 1st class. Please convey our thanks to all those involved. Thanks again."