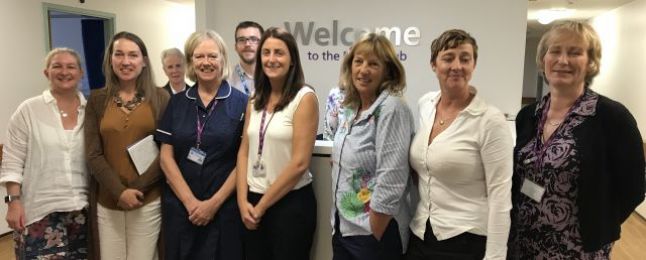 On Wednesday 26th September the innovative Woking Community Hospital-based Bedser Hub hosted a visit from NHS Coastal West Sussex Clinical Commissiong Group (CCG) to share their learning experiences and how they are leading the way with a successful integrated health and wellbeing service.
The Hub provides a range of services for elderly and frail patients in one place, including access to GPs, community matrons, pharmacists, mental health services and social services. Ultimately the service aims to ensure that patients are helped to stay well and independent at home rather than be admitted to hospital
Clinical Director of the Bedser Hub Liz Lawn, Wellbeing Coordinator Joanne Row and socials workers explained the benefit of this collaborative approach for patients, their families and carers. Once on the Hub caseload, you will be on it for life and referrers can request review without the need for a new referral. Patients remain registered with their own GPs and a letter is written to them after each appointment at the Hub, demonstrating how it acts as a complimentary service.
The Hub has had positive feedback from both patients and carers, with its success leading to two more Hubs in the North West Surrey area this year. The two new Hubs are located at Ashford Hospital and Walton Hospital. Each serves a population of 120,000 people.
Members of the CCG were impressed with their visit and in-depth insight into how the Bedser Hub is run.
Dr Emma Woodcock, GP Provider Lead for Rural North Chichester said: "What I have seen today is inspirational. It means that the vision I have is attainable. Although geographically our area is quite different I think that having physical hubs offering a similar service is right for patients. What has been achieved by CSH Surrey could be used as a prototype for others to follow."
Jane Mules, Director of Primary and Community Partnerships - Sussex Community NHS Foundation Trust said: "It has been very interesting to see how another provider has been successful in tackling the same problems and issues we have. Today has been very valuable for sharing ideas and building relationships."
For more information on the Bedser Hub visit: https://www.cshsurrey.co.uk/our-services/service-adults/bedser-hub