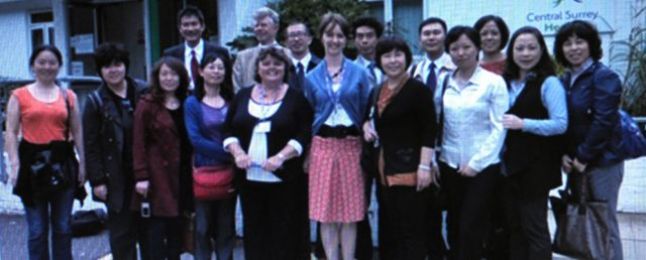 August 2012
Chinese government seeks to learn from Central Surrey Health approach
A top Beijing official and 12 regional Chinese government directors visited Leatherhead Hospital this week to learn how they could improve community services back home in China. The visit was the culmination of a three week fact finding trip that included meetings with Department of Health officials as China seeks to understand how community hospitals in particular are financed and run. 
Central Surrey Health was approached by the Community Hospitals Association (CHA) because of its reputation for improving the efficiency and quality of community services in Surrey. The Community Hospitals Association (CHA) has been involved with a number of similar groups over the past five years as the Chinese Government seeks to learn more about the NHS. 
The delegation was led by Mrs Wang Min, Deputy General Director of the Department of Planning and Finance at the Ministry of Civil Affairs in Beijing. She was accompanied by 12 Directors of Planning and Finance from various regions in China, plus an interpreter. The group learnt more about Central Surrey Health and its pioneering social enterprise and co-ownership model – the first of its kind to come out of the NHS in 2006. This model is widely credited with the higher engagement and productivity levels among its co-owners (staff) that have helped it deliver substantial quality and efficiency improvements since 2009. 
Dr Andrew Crowther, chair of the Community Hospitals Association commented: "I am very grateful to Central Surrey Health for the excellent presentation and visit. The 
delegates found it very helpful, and I certainly also learnt a lot about a new subject. The group has already said they wish to return to Central Surrey Health during next year's official visit." 
Susan Grose, Clinical Manager for the community hospitals says: "We were delighted to welcome the group – they were clearly interested in our model and what we've managed to achieve and hope to replicate something similar across China to improve community services for their 1.3 billion population."