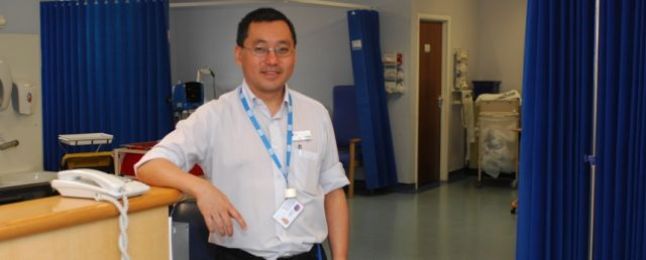 14th February 2014. As part of a joint initiative involving CSH Surrey, Epsom and St Helier University Hospitals NHS Trust and Surrey Downs Clinical Commissioning Group, the Leatherhead Community Assessment Unit is re-locating to Epsom Hospital.
The service will move from Leatherhead on Friday 14th February and will be located at Epsom Hospital from Monday 17th February.  The new Assessment Unit, which will run from within the hospital's A&E department, will complement the emergency services run by Epsom Hospital and its Ambulatory Care Unit (which provides treatment for patients who need hospital care but do not need to be admitted for an overnight stay in the hospital). 
The Assessment Unit, which treats patients who have been referred by their GP, will provide fast diagnosis and treatment to patients who may have otherwise attended A&E or been admitted to hospital. The unit will continue to offer services including echo cardio grams (ECGs), oxygen therapy, blood testing and catheter care for patients with conditions ranging from asthma and heart failure to suspected deep vein thrombosis (DVT). As with the current service, patients must be referred in via their GP or a health professional – it is not a 'walk-in' service. It is important to note that the A&E department and ambulatory care service will continue to run as normal, and of course, will continue to accept and treat patients who walk in.
By locating this service at Epsom Hospital, local patients will have access to a wider range of diagnostics (including CT scans and MRIs) on one site. And, because a high level of acute care is already available at Epsom, discussions are taking place about enhancing the service and making it more integrated with other services in future.
Dr Claire Fuller, local GP and Clinical Chair of Surrey Downs Clinical Commissioning Group, explains: "We know the Community Assessment Unit is a much-loved local service that is popular with patients. By bringing it to Epsom Hospital we can take the service to a new level and integrate it with the full range of services provided on site, creating a 'one stop shop' for local people that offers access to a much wider range of services."
Sally Bonynge, Director of Adult Services for CSH Surrey which will continue to run the Assessment Unit, says: "This is an exciting opportunity to enhance and expand this popular service, working with colleagues at Epsom Hospital. Relocating it to Epsom will make it more accessible to patients across Surrey Downs and will mean patients who need more support can easily access this or be admitted as they are already on the Epsom site."
Jackie Sullivan, Chief Operating Officer at Epsom and St Helier Hospitals, said: "We are pleased to welcome CSH Surrey to join us, and look forward to working with the team providing this important service from the Epsom Hospital site. We are committed to ensuring that patients are cared for in the most appropriate way and that they are directed into the service that is right for them. We are delighted that patients who are referred by their GP can now be seen at Epsom Hospital and we are pleased to be hosting an additional service for non-urgent patients who attend our hospital."