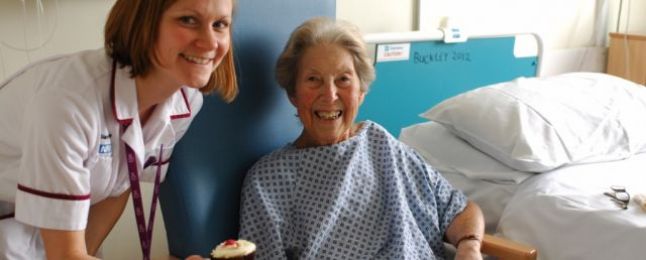 March 2014. Epsom Hospital's 250 inpatients were treated to tea and cupcakes on the afternoon of Wednesday 19th March to mark National Afternoon Tea Day.
The day falls in Nutrition and Hydration Week, which the hospital's Dietitians are using to promote health messages around the importance of eating well and drinking enough.
The idea was the brainchild of Elizabeth Dentith (left in photo below), a Dietitian employed by CSH Surrey, which provides all of the therapy services for inpatients at Epsom. Patients June Deighton and Jola Essom (below) said, "It really brightened our day!" and "We got our usual drink, but then cake as well today - we couldn't believe our eyes!".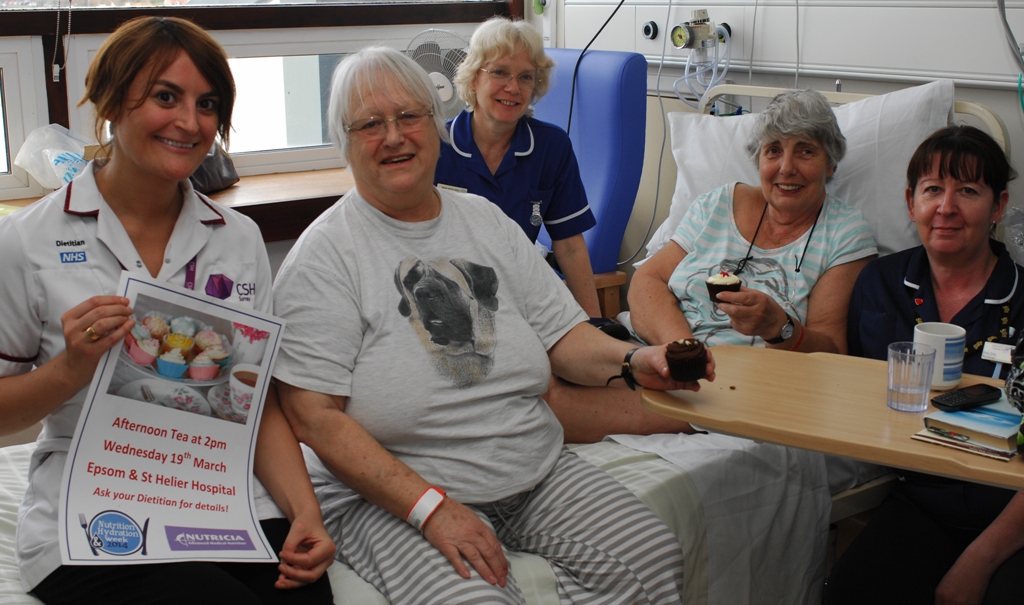 The cup cakes were supplied by Aramark who do the catering at Epsom, and hospital staff also got involved by baking cakes for the tea parties on their wards. Diabetic patients and those requiring special diets such as wheat and dairy free were catered for too, ensuring no-one missed out.
The event was also supported by Nutricia who provide food supplements at Epsom. Kevin Francis from Nutricia (second from left in photo below) showed patients on drinks supplements how to use them in other recipes, such as spritzers.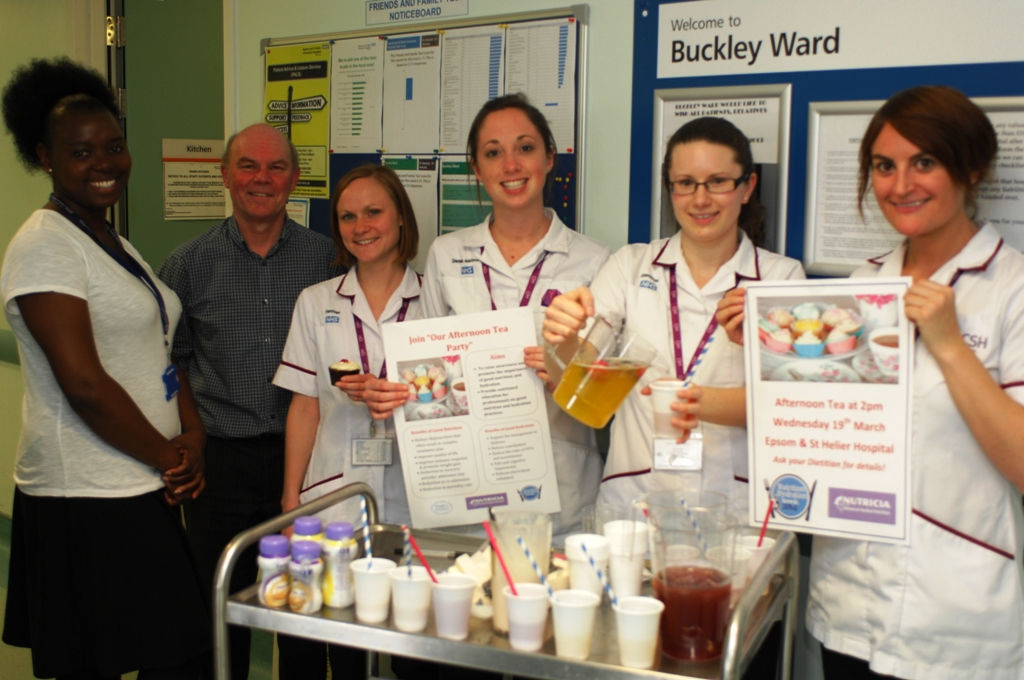 Elizabeth Dentith (right in photo above with the rest of the Dietetics team) says: "Eating well and drinking enough is really important for good health, particularly if you're recovering from illness or injury. Well hydrated skin helps prevent pressure ulcers developing if someone is less mobile than usual, while eating the right foods keeps the body strong and helps it recover. We thought it would be nice to do something fun for our patients to help raise awareness of good nutrition."
Pippa Hart, Epsom and St Helier Hospitals' Chief Nurse says: "This is a fantastic opportunity to raise awareness of just how important diet and hydration can be, especially for patients in hospital and those recovering. Evidence shows that a healthy diet and keeping well-hydrated can have a huge impact on a person's wellbeing, including faster recovery times and less chance of developing a complication. We hope that this special event will get people thinking more about healthy diets and hydration."