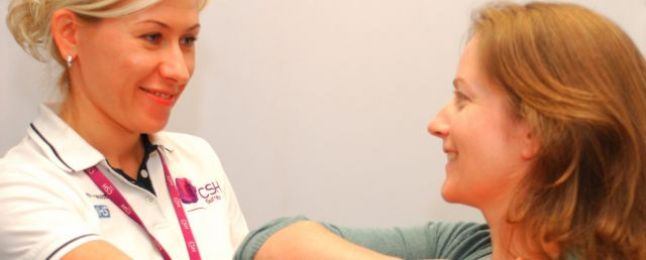 September 2014. Bupa CSH Ltd, a partnership between CSH Surrey and Bupa, has been named by Coastal West Sussex CCG as the preferred prime provider to run a new MSK service for local NHS patients - working with existing providers to coordinate all the treatment and care for people with muscle, joint and bone conditions. The service will be free at the point of care, just like other local NHS services.
Jo Pritchard, Director of Bupa CSH says: "As a nurse myself, I really believe this service will improve the quality of care and outcomes for local NHS patients – by improving how they access the care, support and information they need.
"Local patients have been clear the current service needs improving. One of the key differences they will notice is our new 'Patient Coordination Centre', which will coordinate all of their referrals, treatment and care – meaning they will experience a more coordinated service. So instead of going to the GP, then being referred to a physio and then a consultant and then sent for tests, and each time having to re-tell their story, patients will need just one referral into the service. Our teams will then coordinate all of the treatment and care they need - whether this be a course of physio, x-rays or other assessments, or surgery. Patients will also benefit from improved advice, information and support – via telephone, email and online options.
"We are very much looking forward to working closely with patients, current providers, GPs and partners to plan and deliver the new service."
About Bupa CSH Ltd: Bupa CSH is a partnership between CSH Surrey and Bupa that exists to provide excellent and innovative health and care to patients of the NHS. CSH Surrey is an pioneering, employee-owned social enterprise that is rooted in the NHS. Bupa is a global healthcare leader with over 20 years' experience of working with the NHS. Neither Bupa nor CSH Surrey has private shareholders who are paid dividends. With no private shareholders, both companies are committed to investing in providing more and better healthcare. 
About the MSK contract: the new MSK service will be delivered under a different contract from Western Sussex Hospital Foundation Trust's A&E and trauma service, which Coastal West Sussex CCG will continue to commission separately.