March 2013
Central Surrey Health has been named a finalist in the Developing People for Business Success category of the 2013 Gatwick Diamond Business Awards. The category recognises those organisations that invest in developing their people and the clear difference this makes to business success. 
Central Surrey Health's award entry focused on its strategy of putting its employees in charge of service improvement. By empowering their employees – through skills development and support – Central Surrey Health has been able to deliver 10-45% productivity gains during 2011-2012. This has meant been able to maintain, and in 
many cases, improve quality of services despite severe financial pressures within the NHS.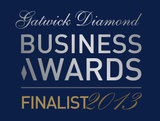 Tricia McGregor, Managing Director of CSH, says: "Central Surrey Health is co-owned, a bit like the John Lewis Partnership, which means we involve our co-owners in running and developing their services. More than one in four of our co-owners are now trained in project management methodology and Lean efficiency approaches, meaning our commitment to continuous improvement can be made a reality. The result is better, higher quality and safer patient care."