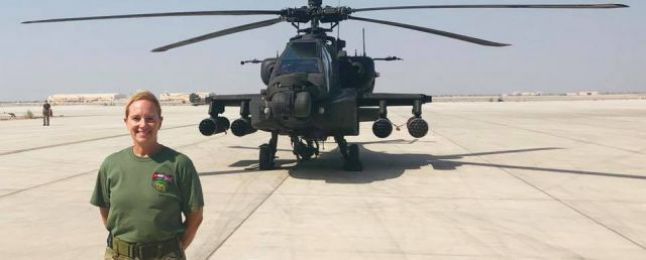 CSH Surrey has been awarded the bronze award from the Armed Forces Covenant Employer Recognition Scheme (ERS), in recognition of our commitment and support to defence personnel.
ERS encourages employers to support the Ministry of Defence and inspire others to do the same. The scheme encompasses bronze, silver and gold awards for employer organisations that pledge, demonstrate or advocate support for the armed forces community, and align their values with the Armed Forces Covenant.
To be awarded the bronze award, CSH had to meet certain requirements including a pledge to support the armed forces, comprising of existing or prospective employees who are members of the community. CSH also had to demonstrate that it is armed forces-friendly and is open to employing reservists, armed forces veterans (including the wounded, injured and sick), cadet instructors and military spouses/partners.
Samantha Stevens is an Executive Business Manager and has worked at CSH for 11 years. Six years ago Sam joined the RAF Reserves as a Motor Transport Driver, something she was only able to do with the support of CSH in giving her additional time off work. Sam said "I had wanted to do something a bit different for quite a while but it's hard trying to achieve this alongside a full time job. I attended an information day for the RAF Reserves after hearing an advert on the radio.  The first barrier I had to overcome was being able to commit to the minimum 27 training days a year.  Some of these would be at weekends but some had to be during the week. Using annual leave was an option but with a family I couldn't use all of them for it. Fortunately CSH has an Armed Forces Policy which allows employees special paid leave. This allowed me to pursue my application knowing I had the support from my employer. Since then CSH has been very supportive of my training requirements.
"In the last six years I have done things that I never dreamed of doing with some amazing people who I would never have met otherwise. For example off road driving competitions in Scotland, driving in convoy over to Holland and back, skiing with the RAF in Bavaria, parachute jumping with the RAF Falcons Display Team. Most recently I served in the Middle East on a three month deployment."
"In the RAF Reservists there are opportunities for promotion, which requires certain skills. One is strong leadership and I have attended courses to build my skills in this area. My confidence in presenting to and leading a group has grown and my ability to manage different behaviours to achieve the best outcome has improved. These are transferable skills into my civilian job."
Sarah Sargent, Recruitment Team Leader, said "People from armed forces backgrounds are highly trained, well-motivated individuals with transferable skills and qualities that can complement our recruitment needs. In return we are able to offer a range of rewarding job opportunities working for our unique organisation in beautiful Surrey."
Rhona Mason, Director of HR and Communication, said: "I am delighted that we have achieved this recognition for CSH's support of our armed forces. As can be seen from Samantha's example there are significant benefits for us as an employer with the additional skills and confidence she has developed through the Reservists. We have already started the application for the Silver Award and hope to achieve this in the coming months."