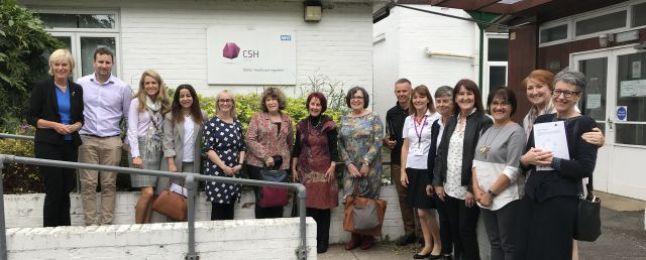 Tuesday 18 September 2018. CSH Surrey today hosted a visit from 14 government, academic and business delegates from Australia who are on a UK Study Tour to learn more about the UK's mutuals sector. The tour has been organised by Australia's Business Council of Co-operatives and Mutuals (BCCM) and aims to give participants the opportunity to learn how co-operatives and mutuals increase diversity and productivity in the health and care sectors. It follows the decision by Australia's federal government in February 2018 to support the formation of the country's first employee mutual (CYS Mutual), in partnership with the government of South Australia, the State in which the mutual has been formed. As well as visiting CSH Surrey, the delegation are going to a range of other mutuals including Community Dental Services in Bedfordshire, Your Health Care in Surbiton, Hackney Community Transport, and Greenwich Leisure Services.
CSH Surrey was the first employee-owned, social enterprise in the UK to be established by public sector employees. It was set up in 2006 by 560+ NHS nurses, therapists and support workers who believed that patients would be best served by an organisation run by the clinicians who delivered the services. Through this unique co-ownership model CSH Surrey has created highly motivated teams who are able to deliver better healthcare through higher productivity and greater innovation – all to the benefit of patients.
CSH Surrey's experience formed the basis for the UK government's subsequent mutuals agenda, with many public sector workers choosing to 'spin out' and deliver services via the mutual model since 2010. One of CSH Surrey's founders, Professor Jo Pritchard, has supported BCCM to organise the UK tour through her current role as Senior Consultant for health and social care at Social Enterprise UK.
Gillian McFee, Chair Public Service Mutuals Task Force at the Business Council of Co-operatives and Mutuals (BCCM), centre in red dress, says: "On behalf of the BCCM and each of our UK Mutuals Study Tour participants, I wanted to thank you all for your hospitality yesterday in hosting our visit to CSH Surrey. We found the visit very interesting. Your journey to employee ownership has been inspiring and a credit to all involved. The highlight of the visit for us was your authenticity in openly discussing the challenges, some externally induced, to honour the foundations, principles and values of co-ownership that define your history. It can be easy to just hear about the good aspects of change without focussing on the challenges, the grit and determination required to stay true to the founding principles, when the new becomes business as usual. I am confident you are up for these challenges and will continue to prosper."
Tim Jackson, CEO Lighthouse, adds: "Hearing CSH refer to staff as co-owners was powerful" and Penny Gale, Director of Australia's first employee mutual, CYS Mutual, which provides early intervention health and therapy services in South Australia, comments: "It was fantastic to see resilience in action."