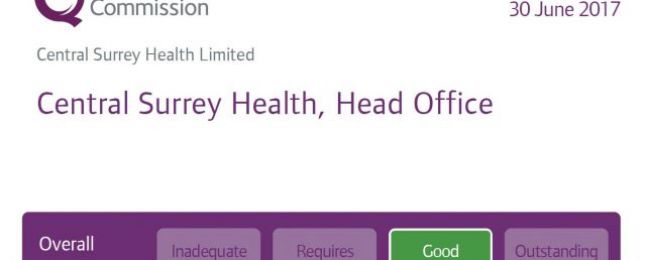 The NHS community healthcare services run by CSH Surrey in mid Surrey have been given an overall rating of 'Good' by the Care Quality Commission (CQC) following their inspection in January 2017.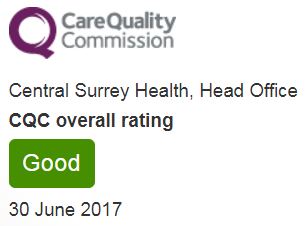 The services, which cover both adults' and children's healthcare in the Epsom, Banstead, Mole Valley (Leatherhead and Dorking) and west Molesey areas, are delivered on behalf of Surrey Downs Clinical Commissioning Group.
The CQC's rating means it considers CSH Surrey to provide good quality community healthcare services. They particularly highlighted how caring our services and teams are, and awarded CSH Surrey 'Outstanding' overall in this key area. Service users shared with inspectors that privacy and dignity are seen as a priority within teams. The CQC also noted that all services demonstrated an understanding of holistic care and the need to provide emotional support.
All three of CSH Surrey's community hospitals (in Dorking, Molesey and NEECH) and the Adult's community services received an overall 'Good' rating, and were awarded 'Good' ratings in all five key inspection areas: safety, effective, caring, responsive and well-led. Our Children's service received 'Outstanding' for Caring and 'Good' ratings for being effective and responsive.
CSH Surrey Chief Executive Stephen Cass says: "We are delighted the CQC recognises our services to be of a good quality, meaning local people can be confident in the care they receive. The rating reflects the care our employees put into providing a high quality service, and I want to thank them for their hard work and commitment.
"We are particularly proud of the overall 'Outstanding' rating awarded for how caring our services and teams are. I firmly believe this reflects one of the key benefits of our employee-ownership model and further supports national recognised evidence of the advantages of employee ownership – that when you own something, you care more about it.
"Of course, there is always work to be done and we welcome the opportunity that such inspections and feedback provide to help us to continually improve services. Inspectors highlighted many aspects they considered to be strong, such as safeguarding, protecting children and young people from abuse, and infection prevention and control. Where we received feedback that some aspects of care could be improved, we are confident that we have already addressed many of these.
"We will be using the feedback and recommendations in the reports to bring fresh ideas and learning to the new Surrey-wide children's service as well as the adults' services in north west Surrey as we start to transform these services under the new contracts."