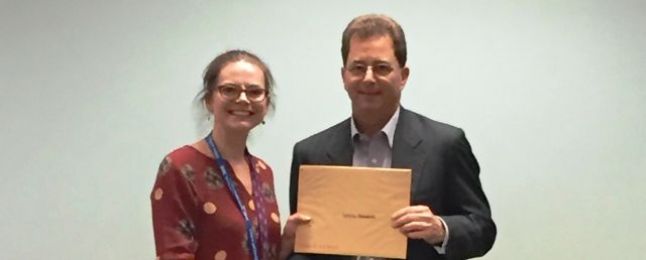 Tuesday 17th July 2018.
The achievements of 40 nurses, therapists, healthcare assistants and managers from across Surrey were recognised at a special event in Leatherhead on 24th May
18 employees at NHS community services provider CSH Surrey graduated from the Institute of Leadership and Management programmes (earning Level 3 and Level 5 apprenticeships). In addition 4 healthcare assistants and other clinical support workers received recognition for completing the national Care Certificate.
The Level 3 ILM course has four one-day modules and the Level 5 course consists of 10 modules. ILM courses cover key competencies and functions of management and leadership. A range of modules are covered including Managing Communication of Vision and Direction, Building Teams to Achieve Business Objectives and Motivating to Improve Performance. These programmes, which are nationally recognised, are offered to all employees at CSH Surrey to support their career and personal development.
The Care Certificate provides training and support for healthcare professionals to work compassionately. It covers the knowledge, skills and behaviours needed to do this.
Rhona Mason, Director of HR at CSH Surrey, says:
"Good leaders and managers aren't simply born, they are generally people who have the right attitude and then receive good training. I was encouraged to see so many co-owners who have again shown this to be true. We need to inspire and motivate others - as Robert Louis Stevenson said: 'Don't judge each day by the harvest you reap, but by the seeds that you plant'."