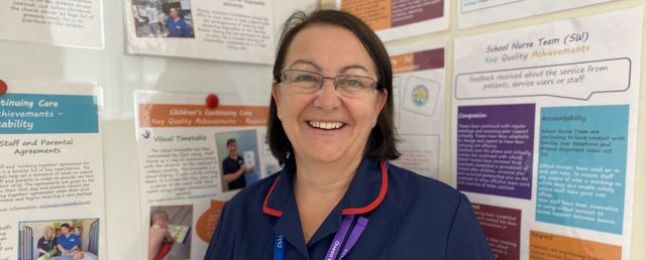 Guildford NHS star becomes a 'Queen's Nurse'.
Guildford-based nurse Jane Smith, Head of County Wide Specialist Children's Community Nursing Services at CSH Surrey, has been given the prestigious title of Queen's Nurse (QN) by community nursing charity The Queen's Nursing Institute (QNI). The title was awarded at an online ceremony on 30 September.
The title is not an award for past service, but indicates a commitment to high standards of patient care, learning and leadership. Nurses who hold the title benefit from developmental workshops, bursaries, networking opportunities, and a shared professional identity.
Jane Smith said: "Over the 40 years I've been a nurse, I have had the privilege of working across both hospital and community services working as a practitioner and working my way up to Senior Operational Manager for Children's Community Nursing services in Surrey.
"This award is a celebration of everything that I aspire to achieve on a daily basis and all that underpins my career, keeps me enjoying and embracing achievements and challenges. When I was 21 years old, I remember thinking "wow", I am so lucky that can do this until I am at least 60 – a  vocation not just a career."
Denise Thiruchelvam, Director of Nursing and Quality at CSH Surrey said: "The assessment process to become a Queen's Nurse is not easy and requires clear commitment to improving care for patients, their families and carers which Jane demonstrates daily for the children of Surrey. We are all very proud of our NHS star!"
Dr Crystal Oldman CBE, Chief Executive of the QNI said: "On behalf of the QNI I would like to congratulate Jane and welcome her as a Queen's Nurse. Queen's Nurses serve as leaders and role models in community nursing, delivering high quality health care across the country. We look forward to working with Jane and all other new Queen's Nurses who have received the title this year."
Jane joins 1400 other nurses around the country to be given the Queen's Nurse title.