July 2012
Central Surrey Health has reached the finals of 2012 Health Service Journal Efficiency Awards.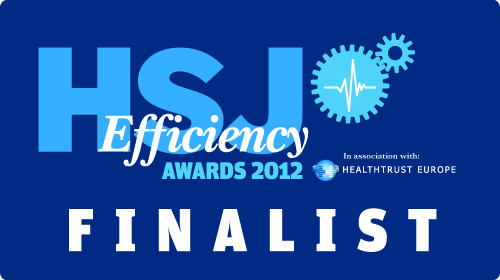 Central Surrey Health has been shortlisted in the prestigious Health Service Journal Efficiency Awards for the second year running, this time for the Efficiency in Community Services Re-design category. Central Surrey Health is one of seven organisations shortlisted for an award in this competitive category. 
Managing director Tricia McGregor says: "Our award entry focused on the recent re-design of Central Surrey Health's podiatry service. By taking out wasteful processes and working more efficiently, the podiatry team has created capacity for 4,000 extra appointments every year, enabling them to see more patients and reduce our waiting lists. As a result, the team has reduced average waiting times from more than 30 weeks in 2011 to less than 10 weeks today." 
Central Surrey Health has, like most organisations in the health sector, been challenged with maintaining services against a back drop of reducing budgets. Its solution has been an innovative change and efficiency programme that's enabling it to prove it is possible for community services to deliver 'more with less'. This is counter to the 66% of NHS staff who don't believe it's possible to increase the quality of patient care while reducing costs (Source: GfK NOP, March 2010). Through its efficiency programme, its nurses and therapists are now able to spend more time treating patients and further improving quality, and less on unnecessary paperwork or processes.