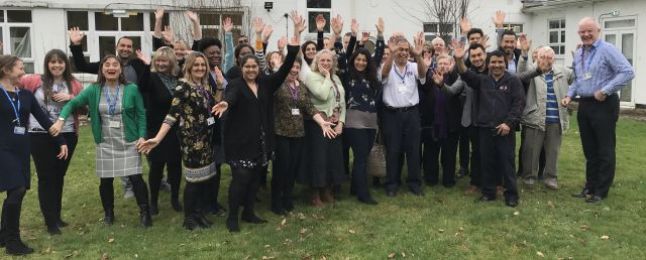 Jorge Lopez (pictured in white at his leaving do) is finally putting away his mop and bucket for the last time after keeping Leatherhead Hospital spic and span for an amazing 43 years.
Cleaning supervisor Jorge (pronounced 'Horhey' but known by everyone as George) first came to the UK in 1970s from his home in Colombia looking for fresh opportunities after, in his own words, spending too much time partying while at college there! Leaving his family and Colombia for the first time, Jorge arrived at Heathrow airport on an autumn evening, aged 19, and has clear memories of fog and bright lights as his plane came in to land. A stranger in a foreign country Jorge negotiated with a taxi driver a £13 fair to take him to Guildford – a huge sum of money back then – where he had arranged accommodation.
Jorge initially found work at a hotel in Guildford. But his expectations of a quiet and peaceful life in England were shaken just days into his new job. On Saturday 5 October 1974, IRA bombs detonated in two pubs, one right next to his hotel, leaving five people dead and many more injured. Jorge, along with other hotel staff on duty that night, provided tea, coffee and sandwiches to the emergency services at the scene.
After a brief time working in construction in Spain, George returned to England where a Colombian friend, working at Leatherhead Hospital, found him a job there as a theatre porter earning around £25 per week. Jorge was soon offered a promotion from porter to cleaning supervisor, a role he has enjoyed ever since. His Colombian 'friend' later became his wife and they started a family while living above the hospital in the old matron's accommodation. As his son Jorge (junior) grew up, the hospital and grounds became his extended home and playground, with the staff and patients his extended family. They only moved out, after Jorge and his wife had lived there for 13 years, to find somewhere with extra space with his wife expecting their second child.
Jorge's first marriage ended in divorce and some 20 years ago, while at a party on a boat in London, he met his current Ecuadorian wife who he lives with in Leatherhead.
Over the five decades he has been there Jorge has seen many changes to the hospital. At one time it had five inpatient wards looking after adults and children, a busy operating theatre, x-ray and outpatient departments and physiotherapy. Jorge has seen plenty of famous faces at the hospital over the years but two patients in particular stand out.
"One lady was an inpatient at the hospital for several years. Although she was unable to move herself out of bed and must have been in a lot of discomfort she never complained and always had a smile on her face. I also remember we had a man with AIDS at the hospital, back when there was so much fear and misunderstanding about the disease. He was in isolation and anyone who went into his room dressed up in gowns, gloves and masks which must have been terrifying for him. But I did my own research into the disease and one day went into his room dressed in my normal uniform and shook his hand and chatted to him. I felt strongly it was something I should do!
"To me everyone is the same regardless of race, religion, culture or class. There are no barriers. I have met some wonderful people over the years. Seeing people face terminal illness with dignity and without complaining has taught me a great deal about the importance of enjoying life."
The hospital no longer has a theatre or inpatient wards, but continues to provide a wide range of outpatient health services to the local community run by CSH Surrey and Epsom  Hospital, including physiotherapy, podiatry, wheelchair services, consultant services and x-ray.
Steve Flanagan, Chief Executive of CSH Surrey, which has provided NHS services at Leatherhead since 2006, says: "Hearing colleagues' stories about working with Jorge and being fortunate to know him myself it's clear that he brings so much more to his role than the job he is employed to do. Jorge loves interacting with patients and colleagues and helping out in any way he can. We will all miss him but wish him a long and happy retirement and thank him for his outstanding contributions to the people of Leatherhead."
Jorge is certainly not one to put his feet up and has lots of plans for his retirement. He is looking forward to having more time to travel and fish, although his wife has a long list of jobs to keep him busy too!