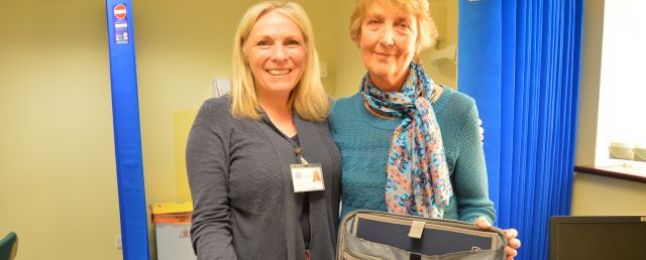 Thursday 1 December 2016.  A Ewell resident has donated money to buy 5 medical equipment bags for the local respiratory nursing service that cared for her late husband.
Mr John Digance received care for Chronic Obstructive Pulmonary Disease (COPD), which is a progressive disease of the lungs that affects everyday living. For over 10 years John was cared for at home by our Respiratory Nurse Service, until he sadly passed away on 26 July 2016, aged 74. Mrs Digance asked friends and family to donate money instead of flowers at his funeral. Following a discussion with the respiratory nurse team, the family and friends decided that the funds should be used to buy clinical bags for the respiratory nurses to use during their home visits. Some funds were left over and will be used to buy other medical equipment.
Mrs Jan Digance, wife to the late Mr John Digance, says: "For over 10 years the nurses have been on hand to monitor, advise and support us. This was invaluable for John and for me as his carer. We were always able to get sound advice and support when things got tough. We could talk to Katie and the other nurses who supported John over the years about anything and they would come to us at short notice when necessary.
"I hope these equipment bags help to ease the nurses' loads. They have to carry a great deal of kit around so they can do checks at home with the sophisticated equipment they have."
Katie Khan Respiratory Nurse Specialist at CSH Surrey, says: "Initially John was regularly reviewed at the nurse-led respiratory clinic until his symptoms increased and he became more housebound.
"When we visited John at home he would laugh at all the bags we would carry into the house and suggest that maybe we had plans to move in! We had one bag for oxygen, one for the spirometer and a bigger bag for the rest of equipment and notes. The new bags mean we will usually only need to carry one bag now.
"Our role in John's care was to educate, support and advise him and his family about his disease, helping to prepare him for the gradual decline that his slowly progressive disease would take. It was a great pleasure and honour to be involved in his care and we are extremely grateful to Jan and her family and friends for their generous and kind donation."
The local Respiratory Nursing Service is based at Leatherhead Hospital and serves patients across the mid Surrey area. The nursing team provides specialist nursing support at home and in clinics to people with long-term respiratory conditions such as Chronic Obstructive Pulmonary Disease (COPD), Pulmonary Fibrosis, Bronchiectasis and asthma as well as those on long-term oxygen therapy. Our aim to improve quality of life by helping patients to self-manage their conditions to prevent or lessen the effects of acute attacks and to avoid the need for admissions to hospital.