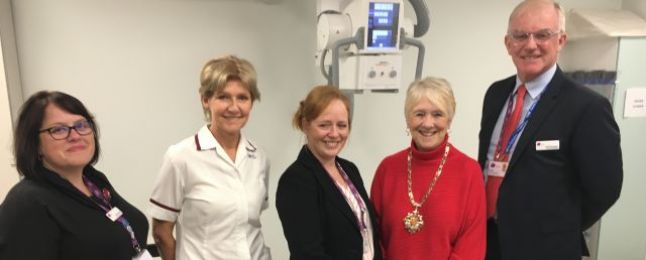 The Mayor of Woking, Cllr Beryl Hunwicks, visited Woking Community Hospital this week to see a number of new facilities that are benefiting patients.
Chief Executive of CSH Surrey, Steve Flanagan, introduced the Mayor to some of our new and innovative services being invested in including the new and expanded Walk-in Centre, a new digital X-ray machine, the Single Point of Access and the Community Hub.
Opened in August this year, the new Walk-in Centre features greatly improved facilities for the 43,000 patients it will see each year. It features spacious and private treatment areas, all with brand new clinical equipment, a larger and more comfortable waiting area and has been designed to be dementia-friendly.
The Friends of Woking Community Hospital met the Mayor to explain how they had contributed £4,725, which included £2,000 donated by the Rotary Club of Woking, towards new seating in the waiting area.
The Mayor was impressed with the state-of-the-art digital x-ray equipment and was given a demonstration of how images are available almost instantly and can be shared, securely, with other healthcare professionals both within the hospital and at other locations.
The new machine exposes patients to ninety per cent less radiation than the older model it replaced, thanks to some advanced digital software to help achieve higher quality images. It also makes imaging for people with mobility issues more comfortable and is much easier for staff to operate.
Chief Executive of CSH Surrey, Steve Flanagan, said: "It was a real privilege to show the Mayor around today and for our teams to share some of the amazing work they do. Thanks to the dedication of our staff and the investments we are making, Woking Community Hospital is providing patients with the highest standards of care possible."
Sarah Tomkins, Director of Adult Services at CSH Surrey, added: "The Mayor has seen today that CSH Surrey is continuing to invest in and make improvements to services so that we can help people live the healthiest lives possible. It is great to start a joined up conversation about the health of our community."
The Mayor said: "I have been very impressed with the work that CSH Surrey is doing here in Woking. The hospital is a fabulous building and the facilities I've seen today are extraordinary. The staff are so welcoming and caring. I shall be telling everyone what amazing services CSH Surrey are providing."