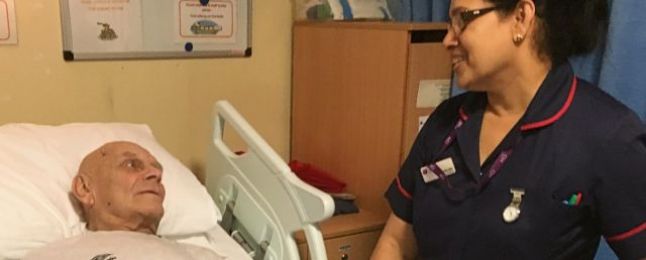 Patients at CSH Surrey's community hospitals are enjoying a restful recuperation thanks to some hi-tech beds recently installed on the wards.
Sixty new beds have been put in at three wards in Woking and Walton community hospitals and come with a host of advanced features designed to aid patient recovery and promote safety.  Each bed is electronically adjustable to the perfect height and position suited to the needs of the patient - a more upright position for feeding and treatment or a lowered position to minimise the risk of falls.
With the average length of stay being around 21 days the beds are designed to offer the highest levels of comfort and support and promote independence for our patients. In addition to the foam mattress, a built-in inflatable mattress topper can be filled with air to help prevent pressure sores developing in less mobile patients.     
One bed on each ward can be adjusted for the care of bariatric patients (people with a significantly high body mass index) and every bed can be lengthened for the comfort of taller people.
The beds even come with their own lighting underneath them to illuminate the floor on either side so patients getting up during the night can see their way clearly, another safety feature that is particularly important for patients with dementia who can get confused in unfamiliar environments.
Nursing and clinical staff are also benefiting as the adjustable beds aid interaction with patients while reducing the risk of injuries that can occur when helping them sit up or get in and out of bed. They are also easier to clean, preventing the spread of infection.
Dolly Jain, Ward Matron at Woking Community Hospital said: "These new beds are making a real difference for our patients and clinical colleagues. A vital part of the recovery process is being as comfortable as possible and the feedback from our patients has been very positive."
Director of Adult Services at CSH, Sarah Tomkins, added: "These new beds are part of our ongoing focus on excellence, providing the very best care to all our patients and our teams.  Whilst our priority is supporting people to be independent whether they are with us for rehabilitation or for other medical care we wanted to ensure that we are able to provide the most comfortable and safest beds possible to support them in their recovery. Recovery requires an element of rest to be successful."
Patient Ted Alderman, pictured, was staying on the ward when the new beds arrived and was able to vouch for their comfort and ease of use.