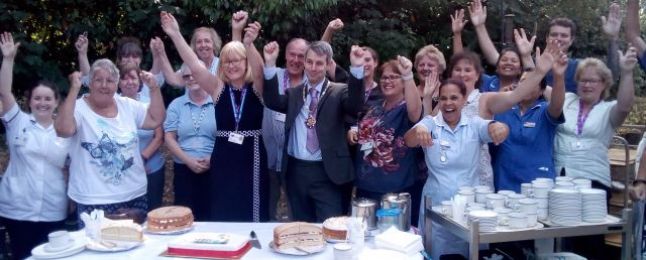 On Wednesday, 1st August Woking Community Hospital celebrated the NHS's 70th birthday with a Big7Tea party with elderly patients, invited guests and staff teams gathered to pay tribute to the NHS.
The event was opened by the Mayor of Woking, Cllr Will Forster who paid tribute to Woking Community Hospital and the long service careers of many nurses who have dedicated themselves to the nursing profession. He also thanked the Friends of Woking Hospital, who have supported and raised funds for the hospital over many years.
The Mayor said:
"This is a fantastic hospital and you all do a brilliant job! The feedback from local people who use services at the hospital is one of praise for the nurses".
Also in attendance were CSH Chief Operating Officer, Victoria Griffiths, Sarah Tomkins, Associate Director of Operations for North West Surrey, patients and staff teams.