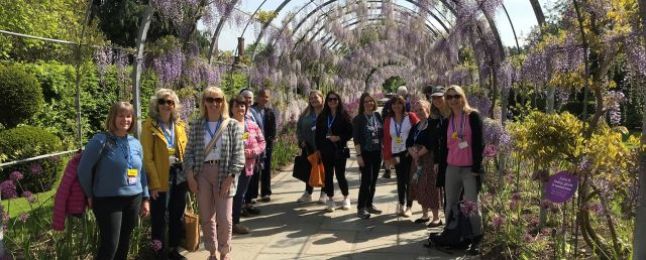 School nursing and specialist school nursing teams recently attended a pilot training session on how school nurses can use gardening, plants and nature to support their own wellbeing, as well as that of the children and young people they work with.
The RHS community outreach team provided the session for health professionals from CSH Surrey at RHS garden Wisley. 
The interactive session explored:
wellbeing and nature connectedness
activities focused on growing purposefully to enhance children's wellbeing
and approaches to encourage growing and nature connectedness to support wellbeing.
The attendees learnt how nature can benefit their own and their team's health and wellbeing, as well as learning a variety of techniques, skills and approaches to enhance wellbeing for children and young people,
Hazel Croft, Senior Community Health Practitioner, said: "Spending time with the inspiring gardeners Chris and Claire was amazing. We potted up plants, wrote poems, created journals, listened to the sounds around us and took time to notice plants and nature. We all went away really enthusiastic about how we can use these new skills in our work with children and young people across Surrey."
Steve Flanagan, Chief Executive at CSH Surrey, said: "We are focused on delivering the Green Plan that we published earlier this year, and this was a fantastic opportunity for colleagues to learn more about how gardening, plants and nature can support children and young people's wellbeing as well as their own.
"On behalf of CSH Surrey, I would like to thank the community outreach team at RHS garden Wisley for providing this excellent training session."
One of the aims of CSH Surrey's Green Plans is: supporting the health and wellbeing of our patients, children, young people and families, colleagues and communities.
Read more about our Green Plan.
If you are interested in finding out more about the RHS work with schools,  including their Campaign for School Gardening and Continued Professional Development for teachers please visit the RHS website: https://www.rhs.org.uk/education-learning/gardening-children-schools.