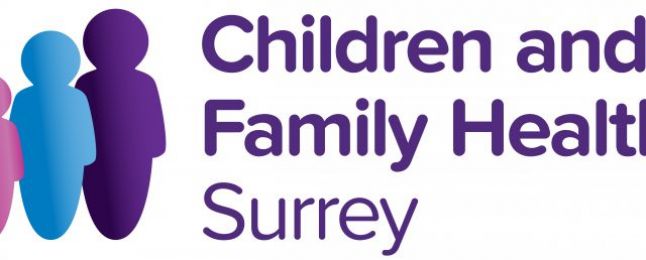 January 2017. Children and families in Surrey are set to benefit from a new service that will make it easier to access healthcare in the community.
CSH Surrey has teamed up with two other Surrey providers of NHS services to win the three year contract to deliver the community nursing and therapy services for children and families across the county from 1 April 2017. These include health promotion services for those aged 0-19 years, such as health visiting as part of the national Healthy Child Programme and school nursing, which aim to keep children and young people well through proactive and preventative support, as well as specialist nursing and therapy services that support children and young people who need on-going care. Importantly, these physical health services will, for the first time, be more closely integrated with Surrey's mental health services so families will benefit from more seamless care that better supports them both physical and emotionally.
The new service - Children and Family Health Surrey - will be provided by a partnership between CSH Surrey and east Surrey's community health service provider, First Community Health and Care, and Surrey's mental health provider, Surrey and Borders Partnership NHS Foundation Trust. By working together as one service, they will provide Surrey families with more child-centred support that will offer improved access to, and more consistent levels of, family healthcare services across the county.
There will be a single access point with one phone number – for families and healthcare professionals across Surrey to access and refer into community physical and emotional wellbeing services. This means families will benefit from easier access to services and their referrals will be processed more efficiently by a team that supports both physical and mental health services, so support and care will be more coordinated.
Health records will be shared between different parts of the service so families only have to tell their story once.
Services will be aligned with Surrey County Council area boundaries to support more joined up working between health, education and social care across Surrey.
E-Redbooks will be available for parents to record their baby's development online, and Apps will enable people to give feedback about their experiences more easily.
Jo Pritchard, Chief Executive of CSH Surrey, says: "We are delighted to have been given this opportunity to build on our work in Surrey. A single integrated service will be easier for families to access. I am confident that our partnership with First Community Health and Care and Surrey and Borders Partnership NHS Foundation Trust will provide Surrey families with consistently responsive and accessible health services wherever they live in Surrey. Our joint vision for children's community health services was developed by focusing first and foremost on the needs of children, young people and their families."
Fiona Edwards, Chief Executive of Surrey and Borders Partnership NHS Foundation Trust, said: "We are excited to be working with our community service partners to apply our experience in providing a county-wide health service to delivering children's community services to families across Surrey. By bringing mental and physical health services together, we believe local children and families will receive a more holistic service which connects mind and body and enables us to focus on early intervention and prevention for life-long health and wellbeing."
Sarah Billiald, Chief Executive of First Community Health Care, said: "I am thrilled and excited that, with our partners, we will be able to extend our reach to run Surrey-wide children's community health services. This will make it easier for Surrey families to get the services they need and means we can be more responsive to the health and wellbeing needs of children and their families."
Children's NHS community health services in Surrey, which include nursing services such as health visiting and school nursing, therapy services such as speech and language therapy, and support for children and young people with on-going care needs, are currently provided by CSH Surrey (mid Surrey), First Community Health and Care (east Surrey) and Virgin Care Services Ltd (north west and west Surrey).
Under the new contract, all of the existing services will operate as one county-wide service alongside Mindsight Surrey Child and Adolescent Mental Health Services (CAMHS).