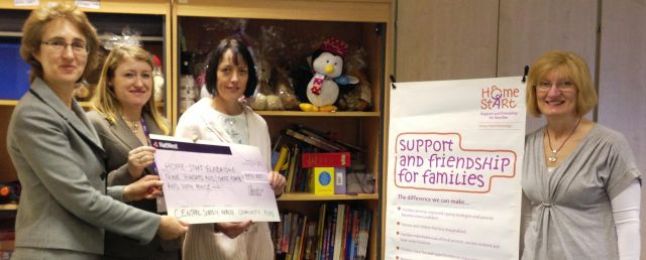 December 2012
Home-Start Elmbridge are the first to benefit from CSH's new Community Fund
Family support charity Home-Start Elmbridge has been awarded £993.60 so it can offer greater support to families in need in the Elmbridge area. 
The cheque was presented to Home-Start Elmbridge on Monday 17th December. Home-Start Elmbridge is the first recipient of a grant from a new charitable Fund set up by Central Surrey Health (CSH) in partnership with the Community Foundation for Surrey. The grant will help pay the salary of a Crisis Support Worker for four hours a week over five months to April 2013. The Crisis Support Worker will help the most vulnerable families on the charity's waiting list through practical and emotional support for issues ranging from debt crisis to post natal depression. 
Carol Hodges, scheme manager at Home-Start Elmbridge, says: "Being awarded the grant is fantastic news. Demand is always so high for our services and it is regrettable to see families having to wait for urgent support from a Home-Start volunteer. These funds will enable Home-Start Elmbridge to address urgent issues with families and will, in turn, shorten the waiting list for those in need." 
One family that's benefited from the support of a Home-Start volunteer was struggling to cope after a difficult IVF pregnancy and the premature birth of their twins, one of whom died when just a day old. On top of this, the surviving baby had medical complications and they also moved house to a new area and had no family living nearby. "Since having our volunteer things have really changed for the better and she has undoubtedly helped improve my mood. At times when I have felt physically burnt out, I have been able to take a break, mentally and physically. I have been able to return to work two days a week and have joined more groups so we can interact with other children and mothers. Life is still tough for us at times, but our volunteer has helped to lift me to a place where it feels much more manageable." 
Home-Start Elmbridge, which has been previously funded through the Community Foundation for Surrey, was encouraged to apply to the new Central Surrey Health Community Fund by Joanne Burke, a Health Visitor from Central Surrey Health who works with Home-Start as a Director of safeguarding. 
The Central Surrey Health Community Fund awards grants of up to £1,000 every two months to support local organisations and groups in Epsom and Ewell, parts of Mole Valley and Elmbridge with initiatives that will benefit the health and well being of their local communities. The Fund was launched with the Community Foundation for Surrey in September 2012 with £10,000 of initial funding from Central Surrey Health's reserves.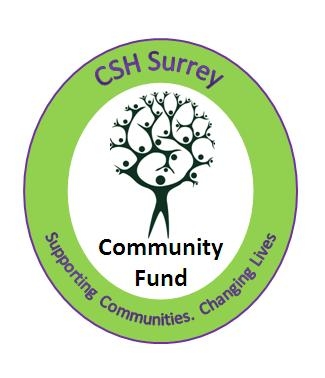 Groups interested in applying should visit the Community Foundation for Surrey's website and fill out the 'expression of interest' form on the Apply for Funding page. If they meet the criteria they will be invited to fill in an online application form that will be assessed by the Grants Team before being forwarded to Central Surrey Health's Grants Panel for approval. Successful applications will have their projects showcased to demonstrate how the funds have been used.