Latest updates
Last updated 11.32 30/11/21
**Due to staff and potential patient nut allergies, with immediate effect, nuts are not to be brought onto site**

Minimum mandatory and statutory training requirements for COVID-19 vaccination programme
The table below indicates the minimum refresher training required for statutory and mandatory training for those involved in the administration of the COVID-19 vaccination. It is assumed that you have already completed the schedule of training required for working on the mass vaccination programme.
In instances where staff have had a substantial break from vaccinating of three months or longer (or completed COVID-19 vaccination training more than three months ago but have not been deployed):
There is no requirement to recomplete the COVID-19 vaccination modules (if they can demonstrate they have been maintaining their knowledge/competencies and providers/sites have mechanisms in place to support this).
However, it is recommended that non-registered vaccinators have a 1-2-1 catch-up with their supervisor prior to vaccinating to go through key changes shared in update sessions they have missed.
It is also recommended that non-registered vaccinators are re-assessed for competency against the PHE competency assessment tool by a supervisor with observation of technique. It would then be for local judgement whether the individual requires further training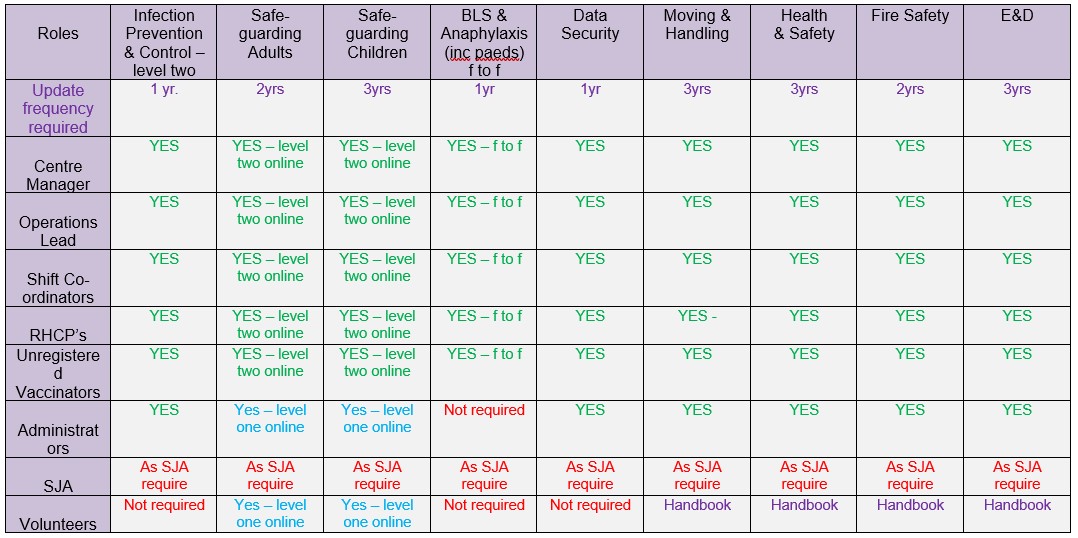 Statutory and mandatory training
Please check your e-learning for health portal for when training is expiring
Health, Safety and Welfare – Level 1 
Equality and Diversity and Human Rights - Level 1
Infection Prevention and Control - Level 2
Safeguarding Children - Level 1
Safeguarding Children - Level 2
Please send certificate/self declaration to CSH.covidtraining@nhs.net
________________________________________________________
Dear All,
Many thanks for your continued support for the vaccination programme. I am writing to let you know that we will definitely still require you and your skills into the foreseeable future, the programme is getting bigger and bigger!
We have, however, been instructed to increase the number of children receiving their vaccine in school or at clinics nearer to their schools and homes. As such we need more of you to work within our schools and at some of the new evening and weekend pop up clinics and fewer of you to work in the centre at Sandown. As I say, we need just as many people, so no risk to hours, but we need to utilise our teams in a different way until the end of December.
If people have travel issues, we will arrange suitable transport, wherever possible, which can start and finish at Sandown.
There will be a reduction in 'admin' hours, but we need some new temporary help with moving the vaccine from our bases at Leatherhead, Woking and Farnham hospitals. So if you are a car driver, we would love you to assist with taking vaccine from the base to schools in each locality. We will ensure you are reimbursed for all mileage as well as your shift obviously.
There will continue to be some shift time at Sandown too.
We will trial this over the next two weeks and I really hope you will work with us and help us to achieve this really important goal.
Many thanks,
Helen Cook                                                                                    
Director of Children and Families Service, CSH.
December roster
Thank you to everyone who responded to the survey, we have listened and heard that the preferred shift times are 8am – 8pm. Due to the pressures on the school aged immunisation service (SAIS) to finish the 12-15 programme we are now unable to offer 8am – 8pm (early or late) shifts during December unfortunately. We can, however, offer the following options:
10:45am – 3pm
2:45pm – 8pm
10:45am – 8pm
Shifts from 1 December to the 31 December will be released on Friday 26 November.
Please note:
Admin and RHCP staff can book up to 5 shifts per week
Vaccinators shifts are limited to 3 shifts per week, where more shifts are available, we will inform you.
Please familiarise yourself with the opening hours as below. If unsure, please check with us on site.
Use of mobile phones
In line with our Uniform and Corporate Dress Code Policy, the use of mobile phones or electronic devices in clinical areas, which includes Sandown Park, must be restricted for patient benefit. Use of personal mobile devices should be restricted to break times to ensure professionalism and attention to work duties.
Please bring your own mug / cup
We would like to try and do our bit for the planet and ask that you bring your own lidded mug/cup to Sandown for tea and coffee. There will be a limited supply of paper cups available on site.
Operating days and hours from Monday 1 November
Weekday opening hours: 11am – 8pm
11am – 3pm (last appointment 3pm) Booster programme, 1st doses, 2nd doses at 8 weeks, 3rd doses at 8 weeks for immunocompromised (appointments and walk ins)
3.30pm – 7.30pm 12-15 years and 16-17 ¾ years appointments/ walk-ins x 1 dose only. 17 ¾ walk ins for 2nd dose (under the adult programme)
Please note that staff breaks are 30 minutes, whether working week day or weekend shifts.
Weekend opening hours: 9am – 5pm (last appointment 4.30)
12-15 years and 16-17 ¾ years appointments/walk ins  
Mass vaccinations centre closed due to Sandown commitments:
Thursday 25th November
Thursday 2nd December
Friday 3rd December
Saturday 4th December
Wednesday 15th December
Thursday 16th December
24th – 28th December
23rd, 29th-31st December operating hours 9am – 3pm
All staff must ensure they book shifts via Employee Online/ME app. Shift bookings are not limited, however, this is being reviewed.
Moderna vaccine starting Monday 29 November
All colleagues (RHCP and Vaccinator) remaining with the mass vaccination programme, will need to have completed the Moderna training online and submit completed training record to csh.covidtraining@nhs.net 
Green Book Chapter 14a
New guidance advises a 12-week gap before vaccination following a positive Covid test. Found on page 30 of the Green Book.
https://assets.publishing.service.gov.uk/government/uploads/system/uploads/attachment_data/file/1033391/Greenbook_chapter_14a_15Nov21.pdf
Pfizer vaccine information
Summary of Product Characteristics 
https://www.gov.uk/government/publications/regulatory-approval-of-pfizer-biontech-vaccine-for-covid-19 
Guidance for healthcare works 
https://www.gov.uk/government/publications/regulatory-approval-of-pfizer-biontech-vaccine-for-covid-19 
________________________________________________________
Paediatric procedural anxiety module for COVID 19 vaccinations
Contains a link to GOSH Paediatric Procedural Anxiety module - a new e-lfh (e-learning) that has been developed by Great Ormand Street Hospital.
 This module is aimed at those new to supporting children and uses child friendly terminology and includes strategies to reduce anxiety for the children receiving the vaccine.
 The module is not compulsory but may be of interest to those in the workforce for whom this is a new experience.
________________________________________________________
Please note that there is still a requirement for all staff to:
Continue wearing face masks at work
Maintain 2m distance from colleagues at work
Remember hands, face, space
Clean equipment before and after use
Continue to undertake regular lateral flow testing
Alongside this we will continue to encourage, but not mandate, the wearing of masks by patients whilst in the MVC.
If on occasion you are required to wear a visor, please note that a visor is for individual use only and should be discarded of or kept on you at all times. To make it clear who's is whose, please write your name in sharpie on the side.
Please can we remind all staff and volunteers that they all need to be bare below the elbow with no wrist watches and no nail polish, gel nail polish or false nails
We appreciate your continued support in keeping your colleagues and the public safe.
Mileage claims
When claiming travel expenses on ePay (business mileage), you must select your home postcode for the start and end of your journey. Home – Sandown – Home.
If you have any queries, please email: csh.workforcebureau@nhs.net with subject heading 'mileage claims'
General updates
Vaccinators, from Monday 14th June - please ensure you do not book in for a long day vaccinating. You can however, book half day admin and half vaccinating. If a long day is booked, half the shift may unfortunately be cancelled.
Reminders
Please ensure you check IT access and have a tour before start of shift
Once orientated, please ensure you arrive 5 minutes before start of shift
Please sign protocol when you sign in if appropriate
If anyone needs a Pinnacle refresher, this can be done on site with admin/digital team
Uniform - no jeans, no leggings and bare below elbows
No open cups on the 'floor'. Closed bottles only on trolleys or tables please
Please put your name on your water bottle in sharpie otherwise this may be thrown away
Locker keys and padlocks to lock away valuables
St John Ambulance volunteers
St John are really proud to be working alongside CSH and even prouder to see that we helped to deliver over 125,000 vaccines whilst we were at Epsom and we are really looking forward to continuing to build on our work together at Sandown. #VaccinateTheNation
If any St John volunteer would like to give feedback, please do let your shift lead know who will ensure that this feedback gets passed on appropriately
CSH admin and St John volunteers will work across all roles on the floor from this week. If you require some buddying please let the shift lead know.
All volunteers should have their training passports (and any other relevant training records) with them and available for inspection at the beginning of the shift.
Your St John ID card should be worn at all times when working at a Vaccination Centre.
When on shift volunteers should wear SDU or green/black St John t-shirt, Black trousers or black skirt, belt, shoes that are visibly clean, non-slip and well-maintained. Shoes should cover the entire foot. 
For any St John related issues when at a Vaccination Centre please call 0333 015 3520
Digital tips and reminders
Duplicate records - to avoid the duplication of records, ensure you always search for a patient record using the search window before creating a new record
Completion of record - to avoid incomplete records, ensure you use the "Save" button when the vaccination has been administered and details recorded.
When saving a record if you are not returned to the patient list or receive an error seek the support of the digital team.
Police Liaison
Our local Police Liaison Officer is Rebecca King: rebecca.king@surrey.pnn.police.uk / 07967986648
COVID-19 learning hub
The Royal Society of Medicine's COVID-19 learning hub page has been created to support healthcare professionals with access to education and learning resources during the COVID-19 outbreak. Resources include links to access past COVID-19 Series webinars, recommended guidance, specialty training, a round-up of current clinical trials and references from the RSM Library. View now at https://www.rsm.ac.uk/resources/covid-19-learning-hub/
Join our WhatsApp group
To ensure you receive notification of our latest updates, join our WhatsApp group at https://bit.ly/MVCupdates2 Only the group administrators can send messages to the group, so you won't receive any unnecessary notifications.
Main content
Welcome
Welcome to CSH Surrey's Covid-19 mass vaccination programme. Working in partnership with the Jockey Club, and alongside Surrey Heartland's colleagues, the Mass Vaccination Centre (MVC) aims to vaccinate, at pace, as many of those most at risk from catching coronavirus as possible. Thus far, our efforts have been hugely successful, with many thousands of the most vulnerable people in Surrey already vaccinated by our staff.
You are now joining that effort for what may be one of the most important roles in your careers. The sooner we 'get this done', the sooner all of our lives can start to return to some form of normality.
Whilst speed and efficiency are of the essence as we do our bit to deliver this critical task, ensuring that we deliver it in a safe and compassionate fashion is equally vital. I would urge you therefore to familiarise yourself with the contents of this webpage so that you can become part of the 'team' as soon as possible.
Finally, I would just like to express my personal gratitude - without you and your colleagues, we would not be able to deliver at the speed and to the extent that we currently do. Thank you.
Dr David Williams, Medical Director, Sandown Park Vaccination Centre.
Arriving at the vaccination centre
Please bring photo ID and confirmation of offer with you to your first shift – you will need to show these.
If you are going to be late for your shift please telephone nurse in charge on 07890 614827
Staff car parking
The Vaccination Centre staff car park is free for staff members and can be foundat Gate C. The address is Sandown Park Racecourse, Portsmouth Road, Esher, KT10 9AJ.
The car park is a short walk away from the site, so please bare this in mind when deciding on what to wear for the day
Please sign in on the sign in sheet by HR desk daily.
Lateral flow testing
From 17 May, staff should now undertaket lateral flow testing at home. Free kits can be ordered here https://www.gov.uk/order-coronavirus-rapid-lateral-flow-tests
We will have some kits on site for new staff coming through.
We will try to organise your COVID-19 vaccine on your first shift – please have your NHS number with you for this.
Senior Admin Lead / Centre manager will direct you to the staff room. If working an early shift you will then return to the floor for debrief around 07.45, or wait in the staff room for the late shift debrief around 13.45.
During the debrief you will be asked to make known if it is your first day. Senior admin will then give you an orientation of the site, the patient flow and explain what happens at each station. Each workstation is allocated a POD number 1-10. You will be assigned a buddy so you can learn the iPad and systems (all very simple) and then once you feel ready too, you can visit IT to get your log in set up and start working on your own.
Please familiarise yourself with the location and contents of anaphylaxis kit and defibrillator (behind screens in the clinical area).
Admin Supervisors
Our Admin Supervisors are on site between 7.15am and 8pm Monday – Sunday, the team are here to:
Provide general onsite admin including scanning and printing
Support Health Roster Team with rostering
Escalate your HR and rostering queries
They are:
Miranda Noakes
Suzanne Dowling
Joanna Reuss
Kirsty King
David Knight
Emma Piggott
Suzie Pepperell
Hannah Leach
If you have any queries, please email csh.mvcadminsupervisor@nhs.net
Breaks
You are entitled to a break which will be organised by the shift leader. Tea, coffee and cold water are available in the staff room. There are no facilities to purchase food or snacks on site, however there are fridges in the staff room which you can use.
Please keep the staff room clean and tidy.
There is a coat rail in the staff room, however it is not secure so please keep valuables on you.
Uniform
Admin / volunteer staff – if you have a uniform please wear it, if appropriate to your role, adhering to the uniform policy. Otherwise we ask that you dress in suitable clothes (smart casual but so you are comfortable as you will be on your feet for long periods of time) trainers are fine to be worn when on shift. Please tie back long hair.  
Please only wear minimal rings as you will be constantly using hand gel and germs will stick to your rings!
Recognising staff
Red tunic denotes the senior nurse on duty
Blue tunic denoted the nurse shift leader 
A doctor is also available face to face or by telephone during the shift for advice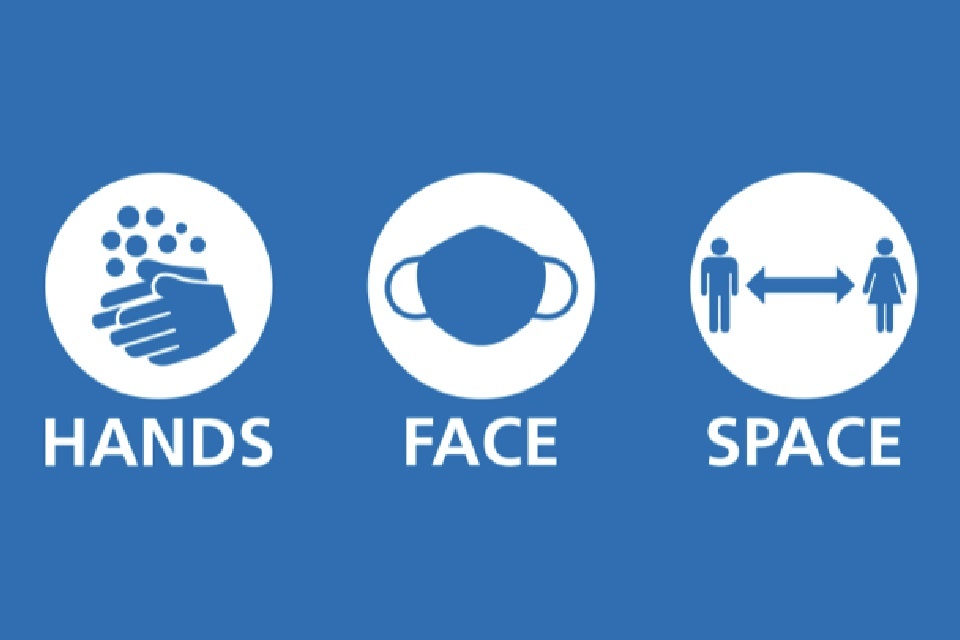 All staff must wear a fluid repellent Type IIR surgical mask within the vaccination centre. Masks must be worn over your nose and mouth - remember good standards are role modelled. Politely ask anyone who does not have their mask over the nose and mouth to please do so.
The same mask can be worn for a session (until a routine rest break is taken) unless it breaks or becomes wet / soiled.
Single use aprons and gloves can be used by immunisers if risk assessed and these must be changed after each patient. Gloves are available in a variety of sizes.
Sharps must be disposed of immediately at the point of use into the sharps bin.
Hand hygiene is of the upmost importance. Hands must be washed before and after your shift, before and after breaks, before eating and after approximately every 5 vaccinations. Alcohol-based hand gel can be used between client contact, before vaccination preparation and at regular intervals throughout your shift, as long as your hands are clean. Your hands may become tacky with the build-up of alcohol hand sanitiser – please wash your hands then.
Staff involved in the administration of the vaccine must be bare below the elbows - no rings except a plain wedding band, no watches or bracelets and no nail polish, gel nail polish or false nails
Keep work areas tidy - all equipment must be cleaned between clients, including seating, table/worktops, keyboards.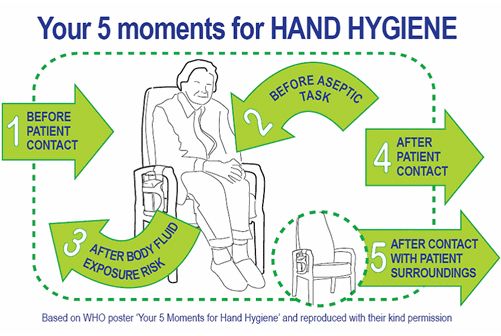 Absence Reporting
If you are unable to work you must report your absence by 6:30am.
Email: csh.workforcebureau@nhs.net with the subject heading 'absence reporting' and telephone: 07890 614827 (messages can be left 24 hours/7 days)
Booking shifts
You should have been sent a log on to employee online. If you have not received a user guide to employee online please email: csh.workforcebureau@nhs.net with the subject USER GUIDE and one will be sent out to you.
To cancel a shift please email with the subject heading stating clearly 'CANCELLING AN MVP SHIFT'.
Pay
All posts are bank posts therefore your pay will be weekly.
General enquiries about MVP (recruitment and pay) email: csh.mvprecruitment@nhs.net
SBS is the payroll provider.
Mileage claims
Mileage (or public transport costs) will be paid as outlined below:
Dukes Court, Woking, has been set as your base and mileage claims in excess of this will be paid. Home to base mileage will remain unpaid and will be deducted from the total miles travelled.
All claims are to be made by ePay and can be back dated to the 9 January, 2021. Claims are processed on a weekly basis with claims submitted by midnight on Sunday being processed the following Friday. Any late submissions will be processed the following Friday. Colleagues should have received registration emails. Colleagues with other CSH posts can continue to use their existing logins.
If you have any queries, please email: csh.workforcebureau@nhs.net with subject heading 'mileage claims'
For any enquiries with IT please contact the on-site digital team in the first instance. 
Otherwise please email: servicedesk@cshsurrey.co.uk
Or call 020 3326 3945
Continual Professional Development
In order to work at the Mass Vaccination Centre there is a requirement that all relevant Covid-19 vaccine specific training and required statutory and mandatory training has been completed and certificated for all groups prior to being allocated shifts to work on site.
Continual Professional development is particularly pertinent to clinical roles as additional specific training is released by Public Health England which includes updates to the Green Books Chapter 14a etc and can be accessed through the Gov.UK website
https://www.gov.uk/government/publications
As new vaccines become available there will be additional e-lfh theory and assessment modules to complete and submit to the Covid Training inbox. You will be notified of these additional requirements by the Covid Training Team.
For general enquiries about training email: csh.covidtraining@nhs.net
Training completed out of normal working hours will be reimbursed for an agreed time. i.e. 30 mins for a specific module. A form will be sent to you on submission of relevant Statutory and Mandatory training certificates. The completed form must be returned to csh.covidtraining@nhs.net. Reimbursement will be received on a monthly basis.
Duty of Confidentiality when working within the NHS
Whilst working at with CSH Surrey on the vaccination programme, you may acquire or have access to confidential information which must not be disclosed to any other person.  This condition applies during your time within the organisation and after that ceases. This data will come in a variety of forms – paper, digital, verbal etc.
Confidential information includes all information relating to the business of the organisation and its patients, clients, staff and volunteers, and includes any of its information when held or processed by its partners, agents and contractors.
The Data Protection Act 2018 and GDPR 2016 regulates the use of all personal information and includes electronic and paper records of identifiable individuals and that using any information you have seen or heard whilst working within the organisation outside the contract of work may initiate legal action from enforcing authorities, the organisation, its insurers or third parties.
You are bound by a duty of confidentiality and must agree to adhere to these conditions and your personal responsibilities to comply with the requirements of the Data Protection Act 2018 / GDPR and the Common Law Duty of Confidentiality.
You are responsible for ensuring that you operate within all Policies and Procedures set out by CSH Surrey and the wider NHS, in undertaking your duties on behalf of the organisation.
Where required to by the organisation, you will undertake such training as is required to comply with the policies of the organisation.
Failure to comply with any of these terms may result in disciplinary action and ultimately dismissal or cancellation of contract and any working arrangements.
Consent
When carrying out vaccinations for COVID-19 staff will need to ensure that they abide by relevant legislation and standards for consent and the Mental Capacity Act (2005).  Consent must be obtained before administration of all vaccines and clients must be prepared and fully informed regarding the vaccination in order to be able to give informed consent. 
Consent means a client must give permission before they receive any type of medical treatment, test or examination. For consent to be valid, it must be voluntary and informed, and the client consenting must have the capacity to make the decision.
The meanings of these terms are:
Voluntary – the decision to either consent or not to consent to vaccination must be made by the client, and must not be influenced by pressure from staff, friends or family.
Informed – the client must be given all of the information about what the vaccination involves, including the benefits and risks, alternatives, and what will happen if the vaccination does not go ahead
The informed consent should be recorded (this is a required field on the Pinnacle Point of Care system). The patient should be provided with written information about the vaccination.
Capacity – the client must be capable of giving consent, which means they understand the information given to them and can use it to make an informed decision.
If a client has the capacity to make a voluntary and informed decision to consent to or refuse the vaccination, their decision must be respected and they must not be made to have the vaccination. 
Some people who will be offered the vaccine may lack mental capacity to make decisions about vaccination because of an impairment or disturbance in the functioning of their mind or brain (either temporarily or permanently). This will include some (but not all) people with dementia, learning disabilities and autism, people with mental health difficulties, and people with acquired brain injury. An assessment of a person's capacity must be based on their ability to make a specific decision at the time it needs to be made, and not their ability to make decisions in general. These people, if they are aged 16 or over, are protected by the empowering, decision-making framework set out under the Mental Capacity Act 2005 (MCA).
Best Interest - Health care professionals offering the vaccine to someone who may lack the mental capacity to consent should take all practicable steps to support the person to make the decision for them. An assessment of a person's capacity must be based on their ability to make a specific decision at the time it needs to be made, and not their ability to make decisions in general. Health professionals must focus on the individual person and consider the risks and benefits of them having or not having the vaccine.
CSH Mental Capacity Act and Deprivation Liberty Safeguards (DoLS) Policy
Assessment of Capacity - Do you have reason to question someone's capacity to make a decision? If so, you need to complete a mental capacity assessment. Remember, capacity is decision and time specific.
Can the person...
Understand the information relevant to the decision
Use/weigh up the information as part of the decision making process
Communicate the decision
Does the person have Capacity to make the decision?
Yes: A person with capacity has the ability to make this decision even if you feel it is an unwise decision. Please ensure that you clearly document this and any advice or signposting you have given them in the patient notes and electronic records.
No: You must now apply the principles of best interest
Do not make assumptions based on appearance, race age or medical condition
Encourage the person to participate as much as possible
Consider if they may regain capacity in the future and whether the decision could be put off until later
Consider the person's past and present beliefs, values and wishes
Take into account the views of other i.e. carers, relatives, friends and advocates
Consider the least restrictive option
Slips, Trips and Falls - To prevent the likelihood of these incidents if you see a hazard such as a wet floor do not leave it. Put your hand up and call for support staying near the hazard and guiding others away from it. The floor can then be cleaned and signed accordingly.
Lifting and carrying - Please only work within your own limitations at all times. Call for support if you believe 2 people are required.
First Aid - A first aid station and first aid kits are available for use. An AED is also located on site in the first aid area.
Incident reporting - You should ensure that ALL accidents, incidents, dangerous occurrences, potential hazards and near misses are reported immediately to the CSH Shift Co-Ordinator / centre manager so that necessary actions can be taken to reduce risks. It is also your responsibility to report any accident suffered by you, however small. It may also be necessary to complete a Datix report.
Social Distancing - All staff should keep at least 1 metre apart when wearing a face covering and be 2 metres apart when face coverings are not worn.
Signage - As in all workplaces you will see safety signage. Below are some examples
Blue Signs – Mandatory information - a sign prescribing a specific behaviour required
Yellow Signs - Hazard Warning – A sign giving warning of a hazard or danger
Red Signs – Prohibition (Do Not) - A sign prohibiting behaviour likely to increase or cause danger
Security - ID badges must be worn at all times. Any persons who do not have an ID badge displayed in staff only areas should be challenged professionally.
There is limited storage space for personal items in the lockers in the break out area. It is recommended that staff do not bring personal items on site and they are left in vehicles out of sight.
Important information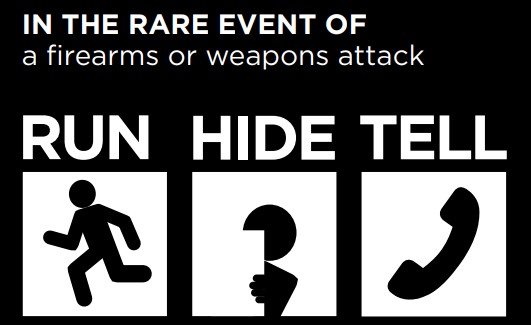 Find out more about the actions you should take in the rare event of a firearms or weapons attack.
What to do if you discover a fire
Raise the alarm by operating the nearest fire alarm call point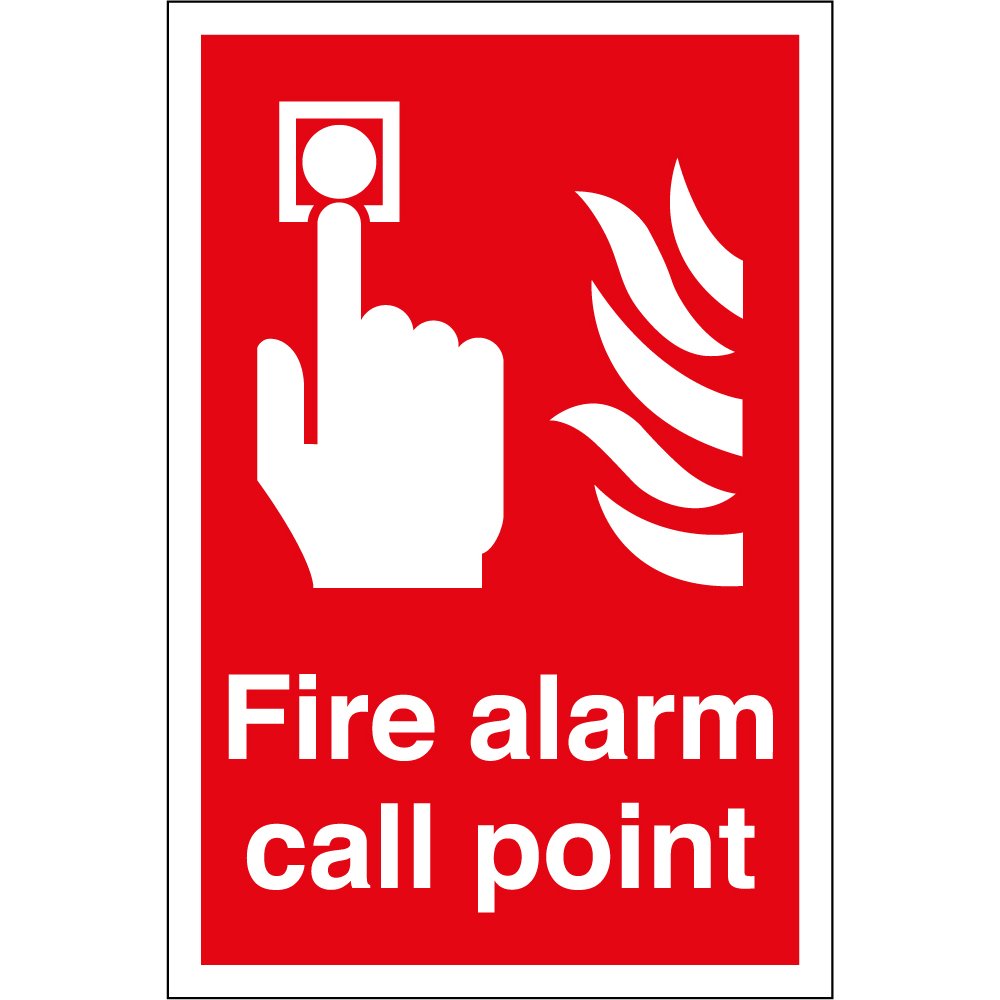 DO NOT USE THE LIFT
Wait for further instructions via tannoy, shift-coordinator or centre manager
What People / Staff Should Do If They Hear the Fire Alarm
A continuous alarm will sound please be on stand-by at this point
The alarm will be silenced and investigated by centre staff who are on site 24 hours per day
If evacuation is needed the alarm will re-sound and a tannoy announcement advising everyone to leave the building will sound. Upon this tannoy announcement and second continuous alarm please leave the building by the nearest exit as instructed
Last person out to close any doors en-route without delaying your escape
Do not stop or return to collect personal belongings
Do not use any firefighting equipment unless you have been trained
Do pass any information to the building responsible person at the assembly point - by the front gate on the grass verge or by the race track rail if exiting the race course side
You must remain at the assembly place.
Return to the building only when authorised to do so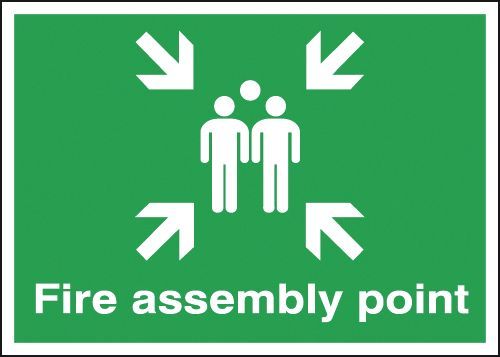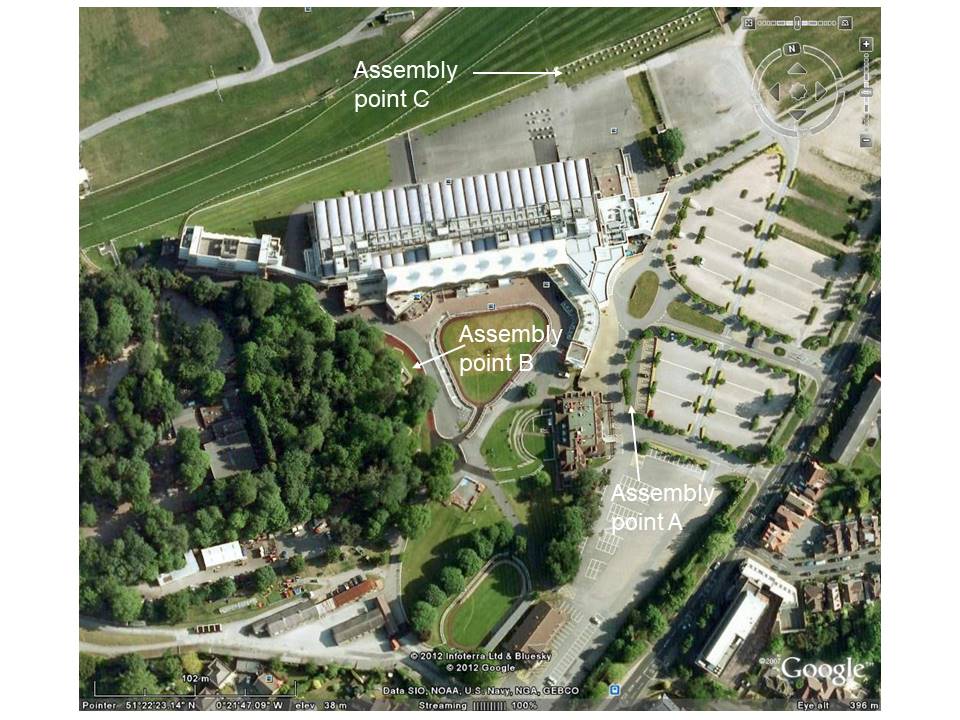 Senior Mass Vaccination Programme team