Last updated 12:28 22/12/2020
Self-testing kits have been rolled out to all teams. Please read our frequently asked questions for everything you need to know about making use of these.
Why is it important to routinely test colleagues without Covid-19 symptoms?
We know that some people have Covid-19 but do not display any symptoms. Although they remain well, they can still transmit the virus to others, including patients, visitors and colleagues. Whilst robust infection prevention and control measures and the correct use of personal protective equipment will reduce the risk of transmission, there is still a risk. It is very important to identify all colleagues who are positive for Covid-19 so they can self-isolate and reduce the risk of transmission to others. This helps us to break chains of transmission and reduce episodes of absenteeism and the associated operational challenges.
What is a Lateral Flow Device Kit and why are we using them?
The Lateral Flow Device is an immunochromatographic test - where the results are shown by a change in colour of test lines that detects antigens from SARS CoV-2 in human nasal swabs. It is a quick and easy test that can be done at home and delivers a result within 30 minutes.
Are the tests reliable?
The 'gold standard' of Covid-19 testing is the highly reliable PCR swab tests that are used for patients, symptomatic staff and across NHS Test and Trace centres every day. Nationally there is the capacity to carry out over 500,000 tests every day and these are prioritised for those with symptoms.
Lateral Flow Device tests are not as sensitive as PCR tests, as overall the sensitivity is 76%, but the Lateral Flow Test is still effective at detecting 95% of individuals with high levels of virus, who are most likely to transmit the virus.
The Lateral Flow Devices have been extensively evaluated and validated by Public Health England Porton Down in conjunction with the University of Oxford who have recommended their use for routine, asymptomatic, staff testing.
What should I do if I have symptoms of Covid-19?
If you are sick or need to self-isolate please contact your manager in the first instance as normal before 8.30 am on the first day you are off sick or need to self-isolate. 
Then, please email the HR Absence Reporting line csh.absencereporting@nhs.net and a survey will automatically be sent to you for completion. The survey should not take more than 5 minutes to complete. 
Continue to keep in touch with your manager on a regular basis to let them know how your absence is progressing.
Who is eligible for a testing kit?
All CSH colleagues are able to request a testing kit pack.
How do I get one?
Managers will take receipt of the kits for their business areas and will provide them to their teams in the most manageable way available, noting the testing kit pack corresponding batch number. In many cases, distribution will follow PPE routes.
What should I do if I am eligible but don't receive one?
It will take a little while to distribute the kits to everyone but if you have not received one by the first week in January, please contact your line manager
Is using the kit compulsory?
We strongly encourage everyone who receives a kit to use it. It is a quick and simple process and is designed to protect patients, visitors, your colleagues and your loved ones.
Much like the wearing of PPE and following hands, face, space guidance we see this as an important part of infection prevention and control strategy and will improve safety for all. The higher the number of colleagues that routinely test, the higher our overall level of protection will be, so please do play your part.
When should I start taking my test after receiving the kit?
Once you have registered on the system you can begin taking your tests. The test should be done twice a week so we suggest spacing the tests out every 3-4 days. If you are unsure, discuss with your manager.
I am on leave or due to go on leave, should I still take the tests twice a week?
Yes. Lateral Flow Tests are an important element of the wider public health response to COVID. You should continue to take your tests.
How do I do the test?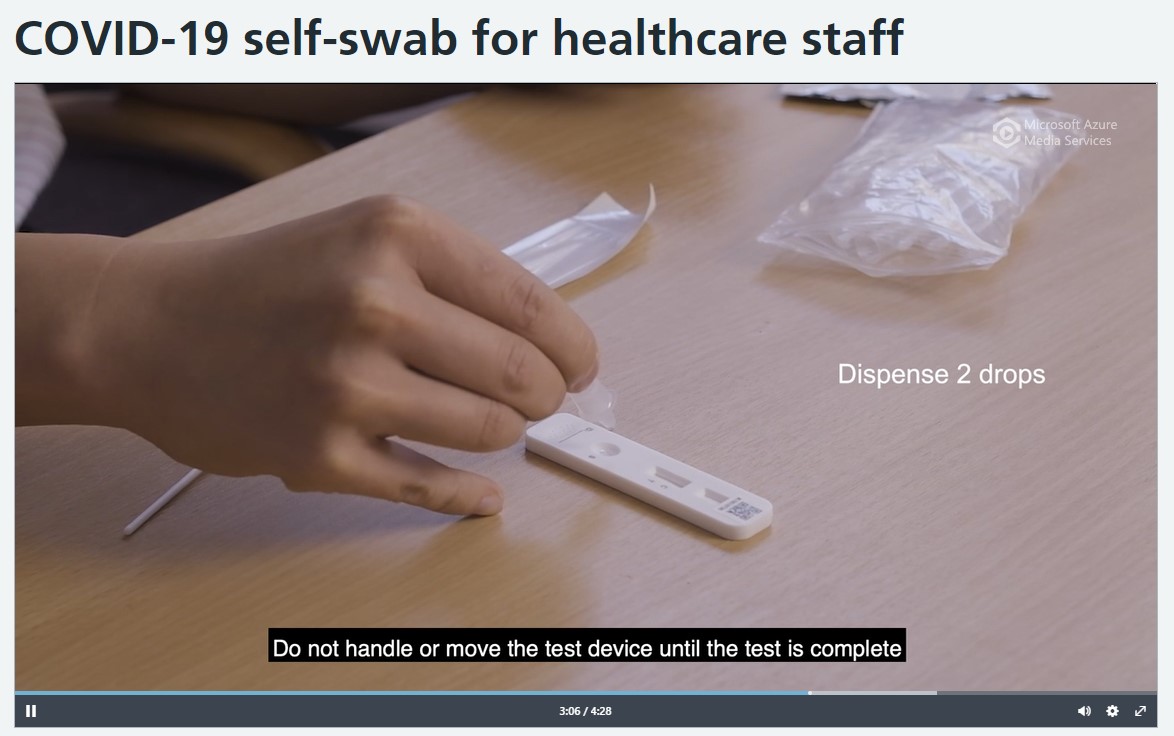 The first step is to watch this short video which takes you through the process step-by-step.
The test box will come with detailed instructions, which can also be found online at https://learninghub.nhs.uk/self-swab. Please read these thoroughly before you start. Once you understand what to do the test is very straightforward.
You will receive 25 tests in the box and you should do your test twice a week on the days marked in your instruction booklet.
Do I need to report the results of my test?
Yes. After every test, you must record your results, even if the results are negative or invalid.
How do I report my result?
Via this online portal - https://cshsurrey.healthit.org.uk/patheks - which is quick and simple to use. Click here for a user guide.
You can also access the portal via the icon on your computer desktop:

All results (positive, negative or invalid) should be recorded twice weekly immediately following the test.
Why do I have to report my result? How is my information shared?
It's really important that we have an understanding of the Covid-19 status of colleagues across CSH and that this information is shared (anonymously) with Public Health England and NHS England and Improvement, so they understand the national situation. The test results that are submitted via the online portal are collated and submitted regularly. Your personal and confidential information is not shared.
What if my result is positive?
Register your results at https://cshsurrey.healthit.org.uk/patheks
Follow the self-isolation advice at https://www.nhs.uk/conditions/coronavirus-covid-19/self-isolation-and-treatment/when-to-self-isolate-and-what-to-do/
Follow the normal CSH absence guidance.
Arrange to book a PCR test via https://www.gov.uk/get-coronavirus-test (This is a more accurate test and will confirm whether you have COVID-19).
If the results of the PCR test are negative (you don't have Covid-19) then you can return to work.
If the PCR test is positive and confirms that you have Covid-19 then you should continue to follow the self-isolation guidance, inform your line manager and email the HR absence reporting line csh.absencereporting@nhs.net.
Who can I contact for any questions?
If you are having issue with accessing the online system, please contact the service desk via:
020 3326 3945 / servicedesk@cshsurrey.co.uk
For anything else, if your line manager can't help you, please email the emergency planning inbox CSH.emergencyplanning@nhs.net